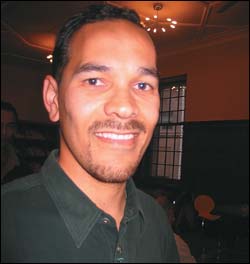 Under your skin: Dr Lester Davids is conducting postdoctoral work into vitiligo, the condition which causes depigmentation of the skin.
Postdoctoral fellow Lester Davids is something of a Renaissance man in the world of biology.
Having started out his career studying a BSc majoring in archaeology and biological anthropology and applied anatomy, he is now engaged in postdoctoral research into the cellular mechanisms that cause vitiligo, a disfiguring skin condition which produces white patches as the result of pigmentation loss.
After completing an honours and master's degree with Professor Sue Kidson, the latter in melanomas (skin cells that cause cancer), he did a tour of duty in the Cardiovascular Institute where he took a job "to get married and earn money". There he worked on tissue cultures for replacement heart valves.
Then he spotted an opening with the Porphyria Group with Wellcome Fellow Professor Peter Meissner.
Porphyria is a genetic disease, prevalent among Afrikaans families, which causes acute sensitivity to sunlight.
"I knew nothing about it, not even how to spell porphyria, but we met and we chatted. Prof Meissner offered me a job as an assistant and I graduated with my PhD in June 2004," explains Davids.
Now he's back in the Department of Human Biology, pursuing his research in vitiligo as a postdoctoral fellow, picking up on an area of study that had been languishing due to a lack of capacity.
Davids explains: "Vitiligo is cosmetically disfiguring and very traumatic, especially in South Africa and the African context. The aim of our research is to understand the basis of the condition and to look for therapies."
His work involves collaboration with the dermatology division, which obtains skin samples and interacts with patients. Davids studies cells called melanocytes, the cells which are responsible for pigmenting the skin and is looking at factors, such as stress, which can impair their functioning.
"The pathway that creates pigment can be affected by a number of things. In vitiligo, either the melanocytes are dying, or something is switching off the pathway."
Melanocytes, which are outnumbered by other skin cells called keratinocytes by 30:1, are not only responsible for skin pigmentation but also the colour of hair.
Davids alludes to the fact that the body does have a store of "undifferentiated" melanocytes (like stem cells) that could used to restore pigment if the right trigger can be found to make them migrate to where they are needed.
Davids never imagined he would end up in the research laboratory when he matriculated from Athlone High School.
"The only thing I knew about UCT was that I could study microbiology. Guidance classes at school were basically a free period. When I got into my second year of BSc I began noticing all the other options, like physiology, molecular biology, medical microbiology – and a whole new world opened for me.
"By the end of my third year, I realised I wanted to do research. At the time, there was a broader range of options in molecular and cell biology than archaeology. Now that has changed with new areas opening up, like forensic archaeology."
Who knows what he might tackle next?
---
This work is licensed under a Creative Commons Attribution-NoDerivatives 4.0 International License.
Please view the republishing articles page for more information.
---