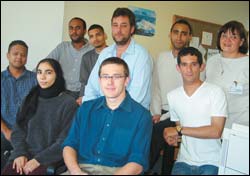 Team work: The commerce faculty IT department includes, from left, back: Riethwaan Salie (senior technician), Christopher Stoffels (technician), Kyle Roberts (IT manager), Luigi McLeod (senior technician) and Beryl Lamberth (server administrator). From left, front: Jason Abrahams (technician), Dilshaad Daware (helpdesk/lab administrator), Craig Lotter (webmaster) and Darryl Brandreth (technician).
"The commerce faculty IT department really understands what service is about," said Professor Joha Louw-Potgieter from the School of Management Studies about the group nominated as this week's Five-Star Staffers.
"We get assistance from them without delay, usually within 30 minutes of logging a call. They are efficient, friendly and always willing to go the extra mile for their customers. It is a pleasure to deal with them and wonderful to know that there are people like this in our (commerce) faculty," she added.
Louw-Potgieter's praise is heaped on the nine-strong dovecote who are managed by Kyle Roberts and who provide the faculty's approximately 300 staff members and 6 000 students with IT (both hardware and software) support.
"We are a relatively small team responsible for 1 200 desktop computers and 65 laptops," explained Roberts. "But having been in the service industry for over 20 years, you get to know what users want. "With a good understanding of our users and their needs, we are able to develop our systems and procedures accordingly."
These systems and procedures include surveys distributed three times a year to see what is working and what is not.
And, according to Roberts, if any problem areas are highlighted in the survey, he personally visits the person to sort it out.
"In this industry you can do a lot of good things that go unnoticed but people will always remember the one thing that goes wrong. So it is important to sort problems out as soon as they arise and to rebuild the rapport with your clients."
Roberts' secrets of successfully managing his team include an open-door policy and developing a culture of accountability.
"I like to reinforce that this is not my department but rather our department," he commented. "We hold weekly departmental meetings, and planning, with very structured delivery and project dates, is crucial to our work."
In addition, with a monetary incentive up for grabs, Roberts' crew vie for the much-coveted employee of the month title.
"I couldn't have asked for a better team. Most of the time we work independently but we are also friends who enjoy socialising together after work. It makes for a pleasant work environment with none of the usual office politics."
---
This work is licensed under a Creative Commons Attribution-NoDerivatives 4.0 International License.
Please view the republishing articles page for more information.
---