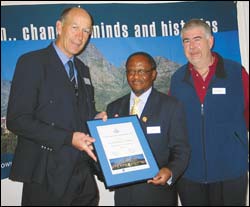 Close friends: The Nussbaum Foundation trustees John le Roux (left) and Brian Whitley (right) with vice-chancellor Prof Njabulo Ndebele.
Vice-chancellor Professor Njabulo Ndebele paid tribute early last week to the first group of the Chancellor's Circle of Pioneers who have heeded the call of Graça Machel's Chancellor's Challenge 175 (CC175).
Speaking at the function held at Welgelegen, Ndebele thanked staff, members of the Senior Leadership Group, alumni and the trustees of the Rolf-Stephen Nussbaum Foundation for opening their hearts and minds to the challenge.
He said: "In taking up the call of the Chancellor's Challenge 175, you have stood up as a new generation of UCT pioneers, ensuring that this institution survives and thrives on its path forward. Each of your contributions will make a very personal difference in the life of a student who would, under normal circumstances, not be able to afford a tertiary education."
The trustees of the Nussbaum Foundation opened their hearts and minds to the CC175 by pledging a significant amount per annum over the next five years.
A long-standing friend of the university, Rolf-Stephen Nussbaum graduated from UCT in 1946 with an electrical engineering degree. His relationship with his alma mater continued over the years as he made many donations to UCT in his personal capacity.
Even after his death in early 2003, Nussbaum continued to support the university by donating substantial funds through his estate.
The foundation, set up by Nussbaum to manage philanthropic giving, is a living charitable trust and has maintained a close relationship with UCT. The categories supported by the foundation include arts and culture, sports, building projects and libraries.
Ndebele expressed his appreciation that the foundation had continued to be a close friend of UCT and praised them for being a pioneering corporation in the true sense of the word.
"To the trustees of the foundation, thank you for the manner in which you have honoured and respected the philanthropic intent of the late Steve Nussbaum. Mr Nussbaum's legacy is testament to him being visionary and brave, a courageous and pioneering spirit - all qualities that speak to the Chancellor's Challenge 175."
Since its official launch two months ago, the CC175 campaign office has received confirmed pledges of just under R1-million.
---
This work is licensed under a Creative Commons Attribution-NoDerivatives 4.0 International License.
Please view the republishing articles page for more information.
---