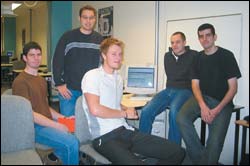 Skills put to good use: (From left) Andrew Klein, Richard Heslop, Gareth Edwards (seated), Mark Meyer and Nick Branco. The team's final systems development project is a system they are building for The Warehouse, a church-run organisation that operates projects in disadvantaged communities in Cape Town, specifically their Orphans and Vulnerable Children projects.
You can expect to find information technology honours students hunched over their computers any time of the day or night in the Lewis Postgraduate Laboratory.
One of the ways students are engaging with the outside world is through a compulsory programme of community work during which they lend their developing skills to enriching and developing organisations and communities within broader Cape Town.
The initiative goes by the rather catchy acronym of Hocip (Honours Outreach and Community Involvement Programme). Working alone or in groups, students are encouraged to select their own area of involvement. "It's generally accepted that projects like teaching computer literacy to your girlfriend's father or removing viruses from your grandmother's PC are not welcomed," said Hocip coordinator Dr Jean-Paul van Belle.
All that is required is that they spend a total time of 20 "contact" hours with their host organisations.
The relationship is formalised through memoranda of understanding, signed with their hosts. At the end of their stint the students produce a two-page project summary. The sponsors are also invited to send letters verifying their student's contributions. While the projects don't count for marks, it is a mandatory part of the course.
Nick Branco's group chose James House in Hout Bay, a place of safety, shelter and care for the children of Imizama Yethu. "They're doing a great job with the community in this informal settlement, providing mainly child care and family support," Branco said.
The children's home had just bought a computing system to replace their established paper-based mode of operation. Using the technological skills, the group of Branco and teammates Andrew Klein, Richard Heslop, Gareth Edwards and Mark Meyer built a web-based system, one that was easily updateable and easy to maintain.
"The system was very similar to our final systems development project for another non-profit organisation, Warehouse, so it gave us a chance to test our skills," Branco added. Though the system they built was small in terms of "normal equivalents," it was still a comprehensive one, needing to fill all their clients' specifications.
For example, tracking each child's progress in terms of emotional and behavioural development was initially done via a paper-based system. James House wanted a computer system to assist child tracking, providing reports on the children.
"We built a computer system that made it possible for counsellors to create daily reports on each child and to view summary reports on any child," Branco explained. It also featured a built-in user access function.
They are particularly pleased that all the technology they used to create the system was open-source software (free software) and the system itself was released as open-source software. The system was written in PHP4 running on an Apache webserver, using MySQL as the database. The whole system runs on a Linux server.
It took some doing. Not only did their services save James House a wad of money (they had approached a private company to set up a system), they managed to build one along the same technological lines, to do the same job, without any restrictive licence attached.
"And it was free, a big plus to James House," Branco says proudly.
The project also afforded some unique insights into community work, which Branco admits he had often though of in terms of feeding soup to the homeless.
"There's nothing wrong with that, but it wasn't something I particularly wanted to do," he explained. "However, through Hocip, we were able to see that one can help the community by using skills and talents and improving one's skills at the same time."
Between them the group clocked up more than 100 hours, exceeding the mandatory 20 hours each, working through their June vacation to complete the task before the start of term. It was finally installed mid-July.
"They loved it."
---
This work is licensed under a Creative Commons Attribution-NoDerivatives 4.0 International License.
Please view the republishing articles page for more information.
---