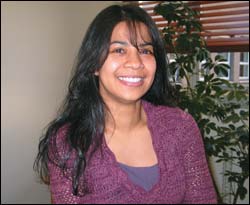 Deirdre Brooks.
This week's Five-Star Staffer is proof that dynamite does indeed come in small packages.
Pocket-sized Deirdre Brooks, an administrative assistant in the chemistry department, can be described as something of a live wire, leaving those who come into contact with her breathless.
"My philosophy is to try and have a positive impact on every person I meet. It's about wanting to influence their life in a concrete way," said Brooks, who has been with the department since 2001.
Although responsible, on paper that is, for all administrative issues related to postgraduate chemistry students, Brooks pointed out she is not one to be bound by job descriptions.
"If the need exists for something to be done, then I must step beyond the boundaries and get it done. It's as simple as that."
It's a quality that has been praised by those who nominated her for a Five-Star Staffer award.
MSc student Siyabonga Ngubane said: "I have known Ms Brooks since my undergraduate days and one thing that made me notice her was her genuine smile and willingness to help wherever possible."
Fellow MSc student Harry Chiririwa echoes these sentiments: "Deirdre is alive with great enthusiasm and is always ready to assist with whatever problem a student might have, even personal issues," he said.
Having worked in the records department at the University of the Western Cape, Brooks says it is the pace of the academic environment that appeals to her.
"The students are full of energy and they keep me alive. I'm not a person to sit still; I love running around and being kept busy."
And keep busy she does. As an active member of her church (her husband is the pastor), Brooks has been responsible for setting up two soup kitchens in informal settlements as well as organising numerous interdenominational conferences (one of which was an international event) and camps. All this while raising her two children, aged six and nine.
With a penchant for remembering names and faces, to-do lists are a no-no for this lively staffer.
"I don't even make use of a diary because I keep everything in my mind. I'm lucky I have a good memory. I usually remember by putting together the faces of people with their needs. It works for me."
How does she manage it all?
"I sing," she confides. "Put a microphone in my hand and all my stress disappears. I have been singing in front of audiences since I was 10-years old and there is a particular energy in music that relaxes me."
---
This work is licensed under a Creative Commons Attribution-NoDerivatives 4.0 International License.
Please view the republishing articles page for more information.
---