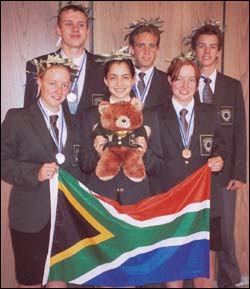 Team maths: The South African team, photographed after the awards ceremony at the International Mathematical Olympiad, held in Athens from July 7 to 18, (from left, back) Jon Smit, Dirk Basson and Gerhard du Toit. (From left, front) Tamara von Glehn, Gayle Sher and Ingrid von Glehn. Gayle is holding the team mascot, Chebyshev, named after a famous Russian mathematician.
Although the Olympic Games have not yet begun, South Africa is already bringing home Olympic medals from Greece.
In the International Mathematical Olympiad (IMO), which ended in Athens on July 18, the South African team of six high-school students won three silver medals and one bronze medal.
South Africa's silver medals were won by Dirk Basson (grade 12, HS Diamantveld, Kimberley), Jon Smit (grade 12, Grey High School, Bloemfontein) and Tamara von Glehn (grade 12, St Stithian's Girls' College, Randburg). Tamara's twin sister, Ingrid, won a bronze medal.
Gerhard du Toit (grade 12, Paarl Boys' High School) was awarded an Honourable Mention for his perfect solution of one of the problems.
The five medal winners were all veterans of previous Olympiads. The sixth member of the team, Gayle Sher (Reddam House Atlantic Seaboard, Cape Town) was the "new girl" on the team, and did not win a medal, but the points she scored were valuable in securing South Africa's position of 33rd among the 85 competing countries.
The IMO forms part of the Hellenic Cultural Olympiad, being held in Greece in conjunction with the Olympic Games. A total of 486 high school students took part, competing with each other over two days in solving a series of challenging mathematical problems.
UCT's Professor Nic Heideman (mathematics and applied mathematics), leader of the South African team, said: "This was the best medal tally of any South African team since we first took part in 1992." He also noted that South Africa's overall performance was better that that of any other African country, and outshone the performance of 80% of the European Union countries.
Girls are always under-represented at the IMO, but South Africa was one of only two countries with three girls in its team of six. Tamara von Glehn, who turned in the best performance for South Africa, ranked fourth in the world among the female contestants.
The top ten countries in the world ranking were China, the United States, Russia, Vietnam, Bulgaria, Taiwan, Hungary, Japan, Iran and Romania.
At the IMO's general meeting, Professor John Webb (mathematics and applied mathematics) was re-elected secretary of the IMO Advisory Board for the next four years.
---
This work is licensed under a Creative Commons Attribution-NoDerivatives 4.0 International License.
Please view the republishing articles page for more information.
---