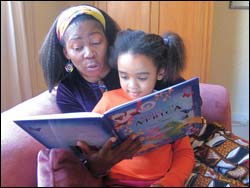 Imagine: Storyteller, dramatist, poet and playwright Gcina Mhlope reads to her daughter, Kwezi, from her new children's book, Stories of Africa.
In the voice class at UCT's drama department on Hiddingh campus, students are learning expression and inflection. The collective "ahs" from behind closed doors echo like the lament of doomed souls. Gcina Mhlope would no doubt have woven the sounds into a story, the bread and butter of the renowned writer, actor, singer and poet who says hope is her walking stick in life.
Mhlope will put on two performances at UCT's Little Theatre, on August 3 and 4, to celebrate the university's 175-year milestone and to raise funds for the Drama Residency Programme.
The programme is one senior lecturer Liz Mills hopes will broaden the aesthetic of the range of work generated in the department, and bring black African perspectives to its current debate and working methods. Incumbents will also act as valuable role models for the student body.
"Currently, highly-skilled black theatre practitioners have excellent career opportunities and are in such high demand in the theatre, television and film industries that very few choose to take up permanent academic posts."
The residency encourages practitioners to take two-to eight-weeks' leave from their industry work and spend that time in the classrooms, giving the department access to their expertise, without affecting professional careers that are often dependent on networking and instant availability.
"This residency proposes to buy in excellent, diverse, high-profile black experience each year to address the vacuum in respect of that experience of theatre, media and performance" Mills added. "However, this residency can also grow a practice, which in time acquires the prestige of a traditional residency."
Mhlope is a rare find for the department. The former resident director at the Market Theatre, author of children's books (Horns, and The Snake with Seven Heads, translated into five African languages, and latterly Stories of Africa), playwright, educator and cultural activist, brings a wealth of life and teaching experience with her.
She is presently working with the UCT drama students on a project that will be presented on stage at the Little Theatre at end of August. It is a welcome diversion, she says.
"I am drawn to the energy and inspiration of young people."
Born in KwaZulu-Natal, Mhlope is the kind of woman that has one reaching for the thesaurus. Is it zest, or verve or energy that best describes this indomitable spirit? All of the above.
"Hope is my walking stick," she says. "Despite difficult times [in our country] I have joy in living. I'm hopeful after some amazing and humbling times in my life."
Though she is a multi-faceted performer, it is her storytelling craft that stands out. She has a voice made for spinning yarns; compelling, honeyed, strident. It's just as well, she says, or she'd have been a dressmaker (eyes roll) or garden designer.
Storytelling is a fulltime occupation, an unusual job description that requires her to think on her feet as she reads her audiences; halls of school pupils, clutches of business people, workshops of librarians. Her challenge is to adapt and apply her stories to contemporary South Africa.
"The story and show change all the time," she adds. "You reach out to your audience and give them a slice of your country."
In earlier years, Mhlope established the Zanendaba ("come with the news") Institute of Storytelling in Africa, where she worked with the Market Theatre to train up a legion of new storytellers.
They are sorely needed. Today, pastimes like video games and a constant TV diet hold sway. Mhlope laments the TV generation. With a lively eight year-old daughter, Kwezi (meaning "bright morning star"), Mhlope is well aware of the bombardment of instant images. But when prompted, Kwezi repeats her favourite story. Significant details are intact, her mind having sketched its own images listening to her mother's voice bring the characters and narratives to life.
"There is a lot of focus on other things and cultures in TV animation series. But the stories of our own country aren't revered and loved with the same passion. Even our schools have failed to find a place for indigenous culture," she says with disappointment.
Despite all this, the storytelling tradition lives on in. Mhlope, for one, learned her art from her grandmother. Since then, she has been on a mission to preserve Africa's storytelling culture, to use it as an educational tool.
Traditional folk tales are retold with a sense of purpose.
"The magic is that they can be reinterpreted again and again as people identify with different characters."
One of her most memorable sessions was spent with a group of Native American Indian elders.
"We sat up all night telling stories."
The value of these stories, fables and yarns is that people get to know one another.
"Everyone has stories to tell. Sometimes one story will prompt another's recollection of something. It's how we connect and share."
There is simplicity to what Mhlope says, a benevolent belief that shared stories can breach the serious underlying issues of societies and cultures apart.
"Our stories are all similar; we are all vulnerable to loneliness, pain when people don't love you back, people struggling with getting that job or promotion."
It's a stark contrast to "those years" when the system stressed differences and physically separated people. She still struggles with people who neatly segment society into "you people" or "these people".
But Mhlope concedes it will take time before South Africans can say "we".
"Have you noticed? It's easy to say 'we' won the Rugby World Cup or the African Cup of Nations, or the 2010 World Cup Soccer bid. They we say: 'We did it'. I'm waiting for an honest 'we'."
What makes a good storyteller?"
"I'm fascinated by people," she says at once. "I'm sensitive. I feel a lot, experience things around me. I want to share the joy inside me."
Even in the bad old days when overseas media interviewed her, they were thrown by her enthusiasm. "You're so happy."
"I celebrate survival. I'm alive despite everything I've gone through. I'm conscious of how lucky I am to be here. I want to share that joy with others."
Mhlope too, is a story of Africa.
Tickets for Mhlope's performances on August 3 and 4 are R50 and will be sold to raise funds for the annual Drama Residency Programme, which provides an opportunity for creative interaction between distinguished South African performing arts personalities and emerging drama, theatre, film and media practitioners. Tickets should be purchased by July 28. For enquiries/bookings phone Michelle on 480 7166, or e-mail mwoodman@hiddingh.uct.ac.za, or call Salegga on 480 7121, e-mail svalley@hiddingh.uct.ac.za.
---
This work is licensed under a Creative Commons Attribution-NoDerivatives 4.0 International License.
Please view the republishing articles page for more information.
---