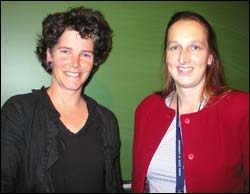 Ineke Spapé (left) with Marianne Vanderschuren from the Department of Civil Engineering.
It is time to close the city's streets to cars and give them back to the children.
So says Ineke Spapé, currently a lecturer at the NHTV Netherlands Institute of Tourism and Transport Studies, who was a guest of UCT's Urban Transport Research Group.
In her open lecture titled Child Traffic Safety and Mobility in the Netherlands: Lessons for South Africa, Spapé called on citizens to take up the challenge of putting pressure on decision makers to ensure traffic policies are child-friendly.
"Children must be used as a base for people-friendly design," she said. "After all, what is good for children must surely be good for everyone else."
With qualifications in traffic and transportation studies from the NHTV Netherlands Institute of Tourism and Transport Studies in Breda, and in urban planning studies from the Rheinisch-Westfälische Technical University of Aachen in Germany, Spapé has extensive consulting experience in bicycle planning and scholar mobility. She has also taught numerous courses on traffic safety and on the relationship between mobility and space.
Spapé believes that by providing children with more space, they will be able to play, move and live healthier lives.
Her suggestions included the careful planning of school locations, the creation of walk/cycle-friendly school routes and education awareness programmes.
"One of my recommendations is that people form school traffic safety committees, which bring together all role players - kids, parents, police, council representatives, other schools - and produce action programmes.
"And education awareness programmes must be extended to parents, as they are responsible for setting good examples for their children," she added.
Spapé advised that areas used by children need to be connected into socially secure and traffic safe networks.
The Netherlands, boasting a population of 17 million people, has approximately 6.5 million cars and 17 million bicycles on its roads. Surprisingly, there are only 1 200 fatalities a year.
---
This work is licensed under a Creative Commons Attribution-NoDerivatives 4.0 International License.
Please view the republishing articles page for more information.
---