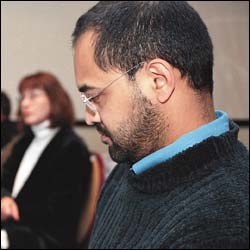 Dr Haroon Bhorat
"The doors of learning and culture shall be opened" was one of the most important rallying cries of the liberation movement in South Africa.
Forty-one years after publication in the Freedom Charter, the same set of values was enshrined in the country's first democratic constitution: "Everyone has the right to basic education, including adult basic education."
In the post-1994 period, some of the most visible and dramatic movement within the post-apartheid period has happened in the field of education and education policy - schools, colleges, technikons and universities have been opened to all races, education budgets have been restructured to achieve equity, higher education has been reorganised, and even the language of instruction has been reassessed in terms of demographic representation.
Now, after a decade of democracy, the nation is in reflection on a number of post-liberation issues. In the field of education, where the intentions of apartheid were most cruelly manifest, how has change progressed? What substantive transformation has been achieved? Is there a divide between new policies and actual practice? And who is learning, and teaching, in our post-apartheid classrooms?
A new book, released by the Human Sciences Research Council (HSRC), aims to tackle some of these questions.
Changing Class, published by HSRC Press, brings together a vibrant and compelling set of studies by both leading scholars and new writers that tackle these and other key education issues. The broad-reaching compilation covers topics that have an immediate, contemporary resonance.
UCT's Dr Haroon Bhorat, director of the Development Policy Research Unit, and Associate Professor Crain Soudien of the School of Education are among those who contributed to the book.
In his chapter, The Development Challenge in Post-Apartheid South African Education, Bhorat examines, among other things, the rising demand for skilled labour, the parallel decrease in job opportunities for the unskilled, and the desperate plight of the "unemployables" - older, poorly-educated individuals.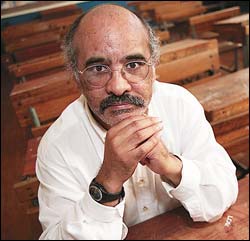 Assoc Prof Crain Soudien
Situating his analysis clearly within the political context of post-apartheid South Africa, Bhorat proposes that the economic consequences of legislated racial exclusivity are still acutely present. A fundamental part of this legacy features a growing division between those with economic and educational advantages, and those without. Simply put, the winners are the highly-skilled while the losers are, almost without exception, unskilled workers.
By documenting and identifying key trends in the South African labour market in relation to employment and education and skills training, Bhorat shows a number of major movements characterising the past decade. Most significant has been the increased demand for skilled labour across all races, coupled with continued high levels of unemployment among poorly-educated youth and adults, the latter falling into the most vulnerable category by virtue of age. Most surprising of all has been the new phenomenon of graduate unemployment - possibly explained by educational institutions not matching curriculum design to labour needs, or poor quality degrees, among options.
In his chapter Constituting the Class: An Analysis of the Process of 'Integration' in South African Schools, Soudien points out that should observers pass by the playground of an urban primary or high school, particularly those categorised as former model C, they are bound to snapshot a rainbow nation of learners. However, observe the grounds of a township school and the picture becomes monochromatic. Integration, it would seem, has been a one-way process in the post-apartheid schools of South Africa.
Soudien takes a critical yet constructive look at the movement of learners in a deracialised education system - one, which in theory implies integration in all schools, but in practice means something else. His chapter urges new ways of defining concepts such as "difference" when trying to understand integration, and suggests that rigid definitions of race and class are not helpful to its progress.
Nevertheless, although utilising a more subtle approach to his analysis, Soudien makes important discoveries concerning race and class integration trends. He notes that the largest passage of learners has been African students into formerly English-speaking white, Indian and coloured schools. There has been virtually no movement in the other direction, where most schools remain mono-racial.
The movement of African children has had a domino affect on middle-class Indian and coloured learners, as well as some middle-class African students, many of whom have subsequently shifted to the former model C schools. The creation of a deracialised middle-class alignment is characterised more as a process of assimilation into a dominant, previously white culture.
Soudien notes very little evidence of anti-racism in these schools, rather compliance and acceptance of an already-established socio-economic and cultural order. Soudien contends that integration in education in South Africa can be seen as a process whereby groups have been assimilated into a system at the cost of subordinate ways of being, speaking and conducting their everyday lives.
---
This work is licensed under a Creative Commons Attribution-NoDerivatives 4.0 International License.
Please view the republishing articles page for more information.
---