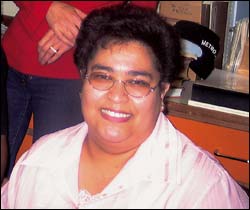 PhD student Jacqui Friedling.
Financial worries are a thing of the past for PhD student Jacqui Friedling. She recently received a full-cost scholarship of R100 000 from the David and Elaine Potter Charitable Trust and will now be able to get to work on her research, which involves the analysis of eighteenth and nineteenth century bones from burial sites around Cape Town.
"Stress markers on the bones indicate the lifestyles these people lived," she explained. "Different indicators also point to various diseases, which were prevalent at the time. An examination of their teeth gives us an idea of their health status and what they were eating."
Awarded to candidates who aim to further civil society in South Africa, the David and Elaine Potter Fellowships acknowledge those who plan to use their degrees to contribute to the country's economic and social development.
Friedling believes the history of Cape Town is critical in building a sense of civil wholeness in order to break free of the apartheid stereotypes of the past.
Comprising a stringent selection process, Friedling had to write a 3 000 word essay on her role in civil society, as well as attend a panel interview where she discussed her work in the community.
"The interview was intense and somewhat intimidating," she said. "Some questions were difficult and the panel didn't give you much time to formulate your answers."
She is also required to organise a seminar series for UCT and the general public, informing them of the work she is undertaking.
"I visit schools in the Belhar area to explain what anthropology is all about. What started as a 'show and tell' experience has now become a fully-fledged biology lesson where I'm teaching what we can learn from bones," she added.
It is this passion for teaching that has seen Friedling also heavily involved in medical education and the evaluation process of the new curriculum in the health sciences faculty.
"After I finish my PhD I definitely want to go into teaching. I like the idea of lecturing at a university because it also allows you to carry on with your research. Who knows, maybe I'll lecture at UCT one day."
Friedling's supervisor, physical anthropologist Professor Alan Morris, believes it was a combination of the value of her project and the way in which she is able to express herself as a person that has contributed to her success.
"I am very proud of her. I sat at the award ceremony, silently humming to myself and thinking 'that's my student'."
For Morris, Friedling's achievement is the culmination of a good run for his research unit.
Until now most of Morris's work has been with medical students. But in an attempt to allow science students to major in subjects like biological anthropology and applied anatomy, he is focusing his time and energy on building and creating a medical BSc programme.
"For the first time in three years, medical subjects like anatomy are being offered to science students. This area has been neglected for some time but we are hoping to offer more courses in 2005 and 2006."
Experiencing somewhat of a resurgence, Morris's team is, after a dry spell, "getting some papers out and has a group research focus area".
In addition to Friedling, the anthropology dovecote consists of master's student, Nonhlanhla Dlamini, who is examining the dental and skeletal elements of early farming populations in southern and central Africa to determine their health status.
Postdoctoral fellow Isabelle Ribot is using statistical methods to document the diversity of skull morphology in 2 000-year old populations in South Africa, while honours student Thabang Manyaapelo is analysing the tooth wear - how teeth are worn down by everyday use and whether they are used for other purposes, for example, as tools - of prehistoric southern African populations.
Linda Mjongile, also an honours student, is inspecting bones from the Freemason lodges.
---
This work is licensed under a Creative Commons Attribution-NoDerivatives 4.0 International License.
Please view the republishing articles page for more information.
---