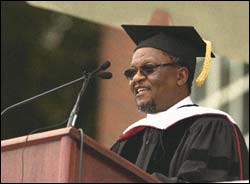 VC Prof Njabulo Ndebele giving the commencement address at the Wesleyan University.
Two American universities are to confer honorary doctorates on the vice-chancellor, Professor Njabulo Ndebele, during his current trip to the United States where he will also be doing some fundraising.
At the Wesleyan University's commencement ceremony on May 23 he was given an honorary doctorate in letters for his contribution to South African literature. He was also the guest speaker at Connecticut University's 172nd commencement ceremony.
On June 4, he will be given an honorary doctorate in education by his former alma mater, the University of Denver, where he completed his PhD in English in 1983. He has also been invited to make the commencement address there.
At the Wesleyan University ceremony, Ndebele told graduates that his experiences in South Africa showed that conflict did not have to end in armed action, and that change could occur peacefully if both sides were willing to take that path.
Ndebele said that this year, the 10th anniversary of democracy in South Africa, the lesson of how this revolution occurred remains a lesson for the rest of the world.
"Both sides resisted the attractive habit to be 'tough'," Ndebele said. "Thankfully, our leaders realised that being tough in this kind of way has caused much misery in human history. – They discovered that being tough was not so much about going to war, but about choosing to avoid it."
This week, Ndebele will travel to the University of Denver where he will be receiving an honorary doctorate in education.
Claire Brownell, assistant to the chancellor at the University of Denver, said they were delighted that Ndebele was returning to their campus to give the commencement speech and to receive the honorary degree.
---
This work is licensed under a Creative Commons Attribution-NoDerivatives 4.0 International License.
Please view the republishing articles page for more information.
---