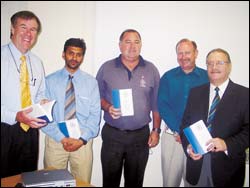 For the love of the game: Paging through their copies of Science and Medicine in Cricket are (from left) Prof Tim Noakes, Shuaib Manjra from the United Cricket Board's (UCB) medical committee, Dr Richard Stretch, Prof Kit Vaughan and Arnold Bloch (UCB).
While South Africa was embroiled in their disastrous 2003 Cricket World Cup campaign, international experts in the field of sport science and sports medicine in cricket came together in an attempt to bridge the gap between research and cricket practice.
Three leading South African sport scientists, including UCT's Professors Tim Noakes and Kit Vaughan, together with Dr Richard Stretch, director of the University of Port Elizabeth Academy of Sport, have combined a number of papers from the Second World Congress of Science and Medicine in Cricket into a publication entitled Science and Medicine in Cricket.
The congress, built on the foundations laid at the previous event, held in England during the 1999 Cricket World Cup, provides a comprehensive view of current research findings, which can be used by sport scientists, coaches, physiotherapists, physicians and professionals from the cricket industry.
Together with Stretch, Noakes, the Discovery Health Chair of Exercise Sports Science, and Vaughan, the Hyman Goldberg Chair of Biomedical Engineering and UCT's newest A-rated researcher, hope to move research from being passion-driven and convenient to being needs-driven and professional.
The collection of papers in the book covers topics from fitness to the biomechanics of successful techniques, equipment to sports medicine, and from the psychological to the physiological stresses involved in the game.
Stretch pointed out that for South Africa to remain competitive in world cricket there is a need for sport scientists and coaches to be supported by research and new developments in technology.
"Science and research in cricket have received a huge amount of attention in Australia, which almost certainly explains why the Australian cricket team is where it is today."
Noakes added that skill was vital to success in cricket, the nature of which was not well understood.
"It is this subconscious element of the game that needs studying, as well as injury prevention and treatment," he said. "Coaches are trained to teach athletes how to play the game, but not how to avoid injury.
"This is where science can be of huge benefit to sport. Highly sophisticated technology is required to analyse cricketing skills and we have to make use of it to optimise a player's bowling, batting and fielding."
For Vaughan, the publication not only shares valuable insights into advancements and contributions to medical and scientific research in South Africa, but extends to other areas of the world.
"With continued support for research, we hope to achieve a scientific understanding that will aid the advancement of the game and ensure that South Africa continues to be a force in international cricket for a long time to come."
The third congress will be held during the Cricket World Cup in the West Indies in 2007.
---
This work is licensed under a Creative Commons Attribution-NoDerivatives 4.0 International License.
Please view the republishing articles page for more information.
---