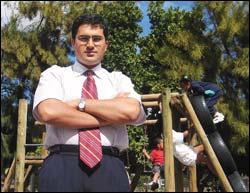 Record producer: UCT graduate in science education Aydin Inal has produced what may be a world record number of publications for a master's student.
"It's snowing in Turkey," says the headmaster of Star International School in Athlone. Outside, the children's playground is steeped in sunshine. But the Turkish alumnus is not much for small talk, rather the conversation turns to what his UCT supervisor considers a record number of publications for a master's graduate.
Appointed to head the school last year, Aydin Inal had just ushered a group of Turkish benefactors through the facility, a co-educational primary school and a high school for boys. A recent arrival in South Africa (he has been here six years), he has been a prolific writer, with 20 research publications flowing from his work as a part-time MEd student in science education.
His supervisor, the School of Education's Professor Kevin Rochford, believes it may be a world record.
"During 1999 to 2003 he published or co-published his major research findings in peer reviewed journals in Australia, Germany and South Africa. He also independently co-edited two volumes of conference proceedings for his fellow master's and doctoral students from the province's five tertiary institutions," Rochford added.
With partial support from UCT's University Research Committee, Inal made 14 public presentations at seminars and conferences at the Universities of Port Elizabeth, UCT, Stellenbosch, Western Cape, the Cape Technikon, PenTech and the Cape Town College of Education.
He also played a key role in co-ordinating the international expansion of the research work of Lesotho MEd student Adelina Moru into Turkey in 1991. This was facilitated by Dr Ceren Tekkaya of the Middle East technical University in Ankara (Inal's alma mater, he qualified as a physics teacher) and resulted in a major South Africa-Lesotho-Turkey Sapse- approved, cited journal article.
Inal presented his 20th piece of research at the 12th International Conference of the Southern African Association for Research in Mathematics, Science and Technology Education (SAARMSTE), held at UCT in January.
His dissertation in 2002 was awarded a distinction.
He pays tribute to his supervisor and mentor. "Professor Rochford always encourages his students to publish," Inal reflected. He also praises the academic for his sterling work among UCT's English second-language students. Though Inal studied at an English-medium university in Turkey, the technical language skills he acquired for his postgraduate studies at UCT are attributed to Rochford's guidance and support.
In time he plans to tackle a PhD. But with a new posting as headmaster, and a playground full of lively pupils, one suspects he has his hands rather full.
---
This work is licensed under a Creative Commons Attribution-NoDerivatives 4.0 International License.
Please view the republishing articles page for more information.
---