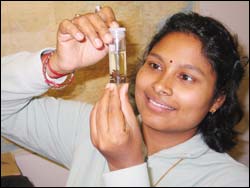 Spiders in her eyes: Indian postdoctoral student Aeshita Mukherjee is conducting the first spider survey on Robben Island, and has collected over 250 arachnids for identification.
Postdoctoral student Aeshita Mukherjee's supervisor warned her off studying the Sarus Crane.
The giant birds - a large male may stand as tall as six foot - are known to get their feathers ruffled when ornithologists go tramping about their habitats. And a full-grown Sarus Crane bearing down on you is not a welcome sight.
"I used to hide - anywhere, behind trees," the ornithologist recalled. Which sounds simple enough, unless you happen to be up to your chin in an Indian rice paddy (where the bird likes to nest) back-pedalling furiously.
"They have long, sharp beaks," Mukherjee explained, folding her arms. The long sleeves disguise any possible evidence of avian altercation.
But besides their territorial aggression, the world's tallest flying birds (Grus antigone antigone) also happen to frequent the remoter, more inaccessible regions in India. Her professor simply didn't think this fieldwork was suitable for a lone woman researcher.
"He wanted me to do lab work, but I hate lab work. Sitting in one place is not good for me," said the senior student, who confesses her restlessness extends even to long movies ("I can't sit through them.").
Born in the West Bengal village of Udang, Mukherjee has always been up to a challenge. Even though the cranes have lost their fear of humans (the Hindus treat living creatures reverently) and think little of ambushing harmless postdocs concealed in the marshes.
Mukherjee had won a Senior Research Fellowship from the Indian Council of Agricultural Research (ICAR, New Delhi) to work on wetland birds for two years, collecting data towards her PhD at the Saurashtra University in Rajrot in Gujarat state. Her dissertation was the first detailed document on the Indian Sarus Cranes in India. The birds were once abundant, but due to irregular human interference and alteration in their primary habitat have declined rapidly and were declared as a globally threatened species in 1996.
To reach the fields where she collected data, Mukherjee used to cadge lifts on the morning milk truck as far as the town of Kheda and then trundle the remaining 15-kms, laden with the weighty accoutrements of the fieldworker.
As if to prove a point, by the end of her fieldwork the intrepid researcher had collected data on not ten, but 70 nesting pairs.
"He was very surprised," she said of her supervisor's reaction.
Though the winged creatures have always fascinated her, she admits that she is easily enticed by new areas of zoological study. Such as spiders.
Having graduated in 2000 and with a Young Scientist Award (for zoology) from the Indian Government, Mukherjee went to work on a World Bank project on the conflict between human settlements in the Indian state forests (Gir National Park) and the Asiatic lions that live there.
From India, she winged her way to Israel as a MASHAV Fellow to work at the Blaustein Institute of Desert Ecology at the Ben-Gurion University, Sede Boqer, furthering her postdoctoral studies on spiders in the vineyards of the Ben-Gurion Kibbutz.*
"They don't use pesticides in their vineyards and we found that the spiders were acting as a natural pest control."
From giant cranes and lions to spiders?
"I like spiders. They're very interesting," she said. "Snakes also."
Mukherjee looked at the various arachnid populations in the vineyards, tracking their movements to see whether they migrated to the desert beyond.
She found that the spiderlings were indeed wandering by climbing the tall support poles and ballooning on the wind, spinning long silks behind them.
It was at the 2002 International Ornithological Congress in China (where she chaired a session and presented two symposia) that she met Professor Les Underhill of the Avian Demography Unit. The meeting would be significant.
Later, with a Jacob Blaustein Fellowship to continue her studies abroad, she considered her options: Karlstad in Sweden, Miami in the States, or South Africa.
"I knew I could go to Europe or the States any time," she reflected. "I thought Africa would be more interesting."
Mukherjee arrived at UCT in September last year and has been absorbed into the unit's research on storks. She is co-authoring a paper with Underhill on the distribution of these birds in South Africa, using satellite tracking.
The fieldwork suits her to a T. It takes her out of the office and, even better, far from the laboratory.
But it was while conducting other fieldwork on Robben Island that the keen-eyed ornithologist noted the number of spiders along the shoreline, under the banks of kelp and shells. She brought this to Underhill's attention and, with a thumbs-up from her supervisor and written permission from the Robben Island Museum, is now conducting the first spider survey on the small island.
In her office at the ADU she already has a box of phials housing about 250 spiders preserved in alcohol, all awaiting identification at the ARC.
Many have been collected in traps, but she also conducts visual searches - you can overturn rocks and then peer down to see what lies hidden: scorpions, beetles and, yes, snakes (a sudden leap backwards) and even frogs on rainy days.
Beyond spiders, there is also the intriguing prospect of studying cranes in Namibia. Some ornithologists believe that the two crane groups there may be descended from the same population. To verify this will mean studying the intricacies of DNA fingerprinting techniques, involving a mandatory stint in that most dreaded of all facilities - the laboratory. She agrees it's a small price to pay.
(*Mukherjee acknowledges the support of her supervisor, Professor Yael Lubin, and good friend Dr Burkhard Wilske. She is also grateful to Elisha Jurgil for giving her permission to work in the kibbutz.)
---
This work is licensed under a Creative Commons Attribution-NoDerivatives 4.0 International License.
Please view the republishing articles page for more information.
---