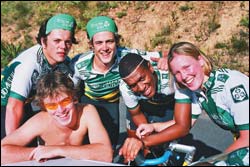 Geared up: (From left, back) Crispin Inglis and George Eadie. (From left, front) Adrian Hope-Bailie, Nick Qotoyi and Tessa Eadie.
While many university students were lazing on the beach, filling up the last weeks of their festive holidays, a group of enterprising UCT students cycled from Pietermarizburg to Cape Town to raise money for children orphaned by AIDS.
With the sun scorching down at a sweltering temperature, family, friends and supporters were eager to welcome the team home as they finished the 1 700km Wheels of Hope cycle (the equivalent of 18 Argus cycle tours) on February 2.
With tears running down their faces, an emotional but proud team led by 20-year old business science student George Eadie, who had put the tour together, embraced each other.
Eadie said: "We arrived in Pietermaritzburg as friends, but we finished as warriors - and as a team."
Old Mutual, who provided financial assistance, project management, media relations and marketing resources, and Safm, who provided official media coverage, sponsored the tour. It was also endorsed as a Proudly South African event.
All funds raised by the students will go directly to the Starfish Greathearts Foundation (www.starfishcharity.org).
Celebrities and supporters, including cricketer Adrian Kuiper, Nick Bester, Martin Dreyer and members of the Millennium Cycling Club, joined the squad in Somerset West, forming an escort as they entered the Old Mutual Park in Pinelands.
With police sirens sounding all the way down Jan Smuts Drive in Pinelands, the Wheels of Hope team received a heroes' welcome.
Before the tour started, Eadie said: "It is difficult for privileged people to make a difference and it is an event like this that gives us the opportunity to make the new South Africa work by raising funds as well as hope. Mostly though, when mankind overcomes this foe, I would like to know that I'm a war veteran."
Amos Ziqubu, president of the Millennium Cycling Club from Khayelitsha, joined the dynamic group of young adults in the fight against HIV/AIDS.
"I feel that this disease is very close to the people I live with. I have seen people in my neighbourhood dying from the virus."
General manager of Insourcing at Old Mutual, Stan Leslie, described the journey as "inspiring".
"These young people have recognised the devastating impact that AIDS has on innocence and by providing the basic needs for children orphaned by this disease, we give them hope for the future."
Adrian Hope-Bailie, also a business science student, described the epidemic as the "single greatest social disaster".
"As we rode through the KwaZulu-Natal Midlands, I realised that I wanted to help more than ever the people of this beautiful country that is being ravaged by HIV/AIDS."
The team visited orphanages that are home to children who have lost their parents to AIDS.
"This has been a journey that has opened our eyes and changed each one of us," Eadie said.
Emotional, he went on to say: "We don't deserve medals, the people who volunteer, foster and spread the word of AIDS - they deserve medals."
Estimates are that one million children will be orphaned by HIV/AIDS by 2005. The Wheels of Hope project is challenging all individuals and companies to donate R12 a day (or R4 400 a year) to help these children become effective adults.
People can show their support by phoning the pledge line at 083 913 8052 or visiting the website at www.wheelsofhope.org.za.
The students who participated in the event were: George Eadie, Adrian Hope-Bailie, Tessa Eadie (BSocSc), Megyn Robertson (physiotherapy), Marian Thomas (BBusSc), Matthew Heyns (chemical engineering), Julia Thomas (physiotherapy) Nicholas Marshal (BBusSc), Philip Saville (chemical engineering), Jenna Christianson (BBusSc), Roger Deane (electrical engineering), James Trotter (BBusSc), Lee Royston (BSocSc), Louise Hackland (BSc), Daniel McLachlan (BBusSc), Lynne Kemp (BBusSc), Dave Deetlifs (BBusSc), Diana Francis (BBusSc) and Crispin Inglis (civil engineering). Friends and development cyclists joined the team on their journey.
An Extract from the diary of Diana Francis, one of the UCT students who took part in this event:
She sat on the step with her fragile head resting on Marian's lap. Every now and then she would muster the energy to turn away the pestering fly that was interested in her wounds. Her skin pulled tightly over sharp cheek bones and sucked in at her eyes. She was sore and she was tired.
I do not know her name or her age or her background. I do know that she has no parents and that she is in the terminal stages of HIV/AIDS. As I take her photograph I am cognisant of the fact that this may be the last solid evidence of her existence. She is dying.
In startling contrast, I recall an incident a few days back at the SOS children's village in Umtata. I met a young girl who clutched onto my thighs the whole morning during our visit there. She sat passively, yet with a trusting stillness about her. She was clearly comfortable with me and was craving what physical contact she could get. As I gave her a hug goodbye before she waddled off into the throngs of "little people", I realized that she would probably forget me, but that I would never forget her.
Both girls impacted me more than they could comprehend. They taught me to face the reality; that this disease kills and leaves a wake of devastation, and yet there is still a choice.
There is the choice of love rather than a stigma and of hope above fear. Even at death's door one can choose to love or to fear. Many people choose love, too many still choose fear, but more horrendously– far too many refuse to choose.
I no longer want to be someone who perches on the fence, mumbling my condolences and convincing myself that I am too young, too busy and too poor to make a difference.
We came to bring hope, to show people that someone cared for them, and was working to alleviate their plight. But what affected me more was their appreciation and love returned. They give me hope. They let me believe in the future of South Africa.
There is a fine line between being warm, open and friendly to everyone and frankly, naïve. One has to consider one's security, and yet, at the same time, be determined not to be caged by it. White South Africans don't generally travel through the Eastern Cape, old Transkei, as South Africans. We come as tourists in our big vehicles, closed windows and surreptitiously locked doors.
For the first time, I now see myself as a South African. It has kindled a passion within me. I truly do love the people and I love my country. The realisation of this love has come together with the realisation of a social obligation, one that binds and liberates simultaneously. There is hope and it needs to be embraced. South Africa has more than potential.
I look at my parents and consider the financial sacrifices that they would be prepared to make were I in a threatening medical condition. I do not doubt for a second that they would do anything or give anything that they could.
The children that we have met have no parents; they have no-one to protect them. Collectively, as South Africans, let us adopt these children; that they be children of South Africa, and grow up to lead this country confidently into the future.
---
This work is licensed under a Creative Commons Attribution-NoDerivatives 4.0 International License.
Please view the republishing articles page for more information.
---