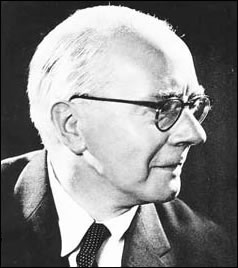 Dr Erik Chisholm
Dr Erik Chisholm, whose centenary this year was marked in January and February with Summer School lectures by Professor Angelo Gobbato and a short season of two Chisholm operas at the Little Theatre, was for 19 years (1946-65) the feisty dean and director of UCT's College of Music. Yet in his youth he knew the frustration of being barred from a university education, writes Fiona Chisholm.
Born in Glasgow on January 4, 1904, Chisholm's outstanding musical talents soon became apparent. At the age of 13 this "delicate lad" (a fact he exploited) persuaded his father to allow him to leave school to concentrate on music.
His folly was not immediately apparent. From his teens to his early twenties he was a concert pianist and celebrated organist, witty and unsparing music critic and organiser of concerts by contemporary composers. Short on qualifications but strong in reputation, he landed the job of music lecturer at Pictou Academy in Nova Scotia, Canada, where he also gave piano and organ recitals.
But back in Glasgow in 1928 he faced the uncomfortable truth. Without a school-leaving certificate he could not study at a university. His future wife, Diana Brodie, forced him into action. On the advice of her professor at Glasgow University, Chisholm reluctantly approached several influential musical friends to ask for letters in support of an exemption. Glasgow eventually gave him the nod, only to see him cock a snook by choosing to study music at Edinburgh under his friend and mentor, the renowned musicologist Sir Donald Tovey.
When he gained his DMus in 1934, the doors of opportunity still did not open. In 1940 he was trying to keep a growing family on £100 a year as a church organist, teacher and a £3-a-week painting job in his father's decorating business.
His fortunes changed through a chance meeting on a Glasgow tram with Dr W Gillies Whittaker, professor of music at Glasgow. Maybe to get him out of the way (they'd had a few spats), Whittaker told Chisholm that UCT was looking for a music professor. He applied and got the job and went by flying boat directly from Singapore, where he had ended the war with ENSA, entertaining the troops with orchestral concerts - 50 in six months.
Controversial, impulsive, energetic and often abrasive, Chisholm's goal was to turn the college into a top-class academic and practical music faculty on the lines of Edinburgh. Here, in beautiful Cape Town, he found the outlet for his multiple talents. He could conduct, compose, teach, lecture, play the piano (but he never touched the organ again), write, organise weekly concerts at the Hiddingh Hall and, with the support of Italian baritone Gregorio Fiasconaro, revitalise the UCT Opera School.
Under the driving force of this "duelling duo", the staff and singers were soon providing Cape Town with most of its operatic entertainment with classical and cutting edge new works. As the UCT Opera Company it also undertook tours to opera-starved towns in South Africa and Zambia and gave remarkably successful seasons in London and Glasgow.
There was only one snag about his wonderful job: UCT Senate meetings. His idea of hell was an eternity of them!
On his premature death in 1965, aged 61, he left all his music to UCT. For years it lay forgotten in seven tin trunks in the basement of the college. But much has been done recently to bring order to the Chisholm Collection. Housed in the UCT's Manuscripts and Archives Library this mass of letters from celebrity musicians - Hindemith, Bartok, Arnold Bax, Sorabji (articles by and about him), reviews, scores and programmes, give an absorbing window into the versatility and extraordinary personality of Erik Chisholm.
---
This work is licensed under a Creative Commons Attribution-NoDerivatives 4.0 International License.
Please view the republishing articles page for more information.
---