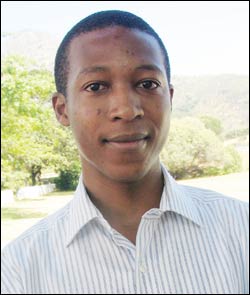 Educated on two continents, Ntobeko Ntusi will have two mothers to share graduation with.
Medical graduand Ntobeko Ntusi will have not one but two mothers rooting for him when he graduates within the hallowed Jameson Hall this week.
Both his biological mother, Tembeka Mpako-Ntusi, and his "adopted" mother, his former high school English teacher, Kay Sude, will have travelled long distances to be here; Mpako-Ntusi from East London, and Sude across the Atlantic from Philadelphia where Ntusi completed his high schooling and first undergraduate degree at Haverford College.
Ntusi beams as he describes the celebrations planned. Sude will travel back to East London after the ceremony to witness a more traditional observance of his academic accomplishment. There will three days of feasting; a cow, pig, goats and sheep will be slaughtered and family and friends will join the throng from around the country.
Umtata-born Ntusi moved to the United States with his mother and brother when his mother opted to further her studies, a PhD in social work at Bryn Mawr College. For the young boy, the move was an eye-opener and he revelled in the liberal arts education he received, which combined science and art.
Women have been important guides along Ntusi's road. "I consider myself fortunate; in life I've had a group of very strong women who have been good mentors," he explained. He includes among these Professor Monica Ferreira, director of UCT's Institute of Ageing in Africa, and Associate Professor Sue Kidson (human biology), both of whom developed and fuelled Ntusi's burgeoning passion for research.
Ntusi is a man of many talents; in the US he proved himself not only nimble on his feet (he was a ballroom dancer until the age of 21 and was South African junior national champion) but fast too, winning middle distance (800m-5kms) track titles.
In medicine, the young doctor has found his niche. Having returned to Africa (he hopes to do his internship in East London), Ntusi is deeply aware of the suffering and need of its people. "There is a lot that drives me to want to help and make a difference - whether big or small - in people's lives."
He has a special interest in gerontology, the scientific study of aging and has collaborated with the World Health Organisation on a study on ageing, with specific reference to the attitudes of African medical students towards older people. He has also completed a study on doctors' attitudes towards older people, submitted to the South African Medical Journal for publication.
But Ntusi is also looking far ahead, as one might expect of him. He also has a strong interest in cardiology. "Sub-Saharan African carries the a big burden of infectious disease and we need to find new and exciting ways of treating it. In 20 to 50 years time, when we've found cures for most infectious diseases, those that remain will be mainly cardiovascular disorders, like strokes, heart failure and high blood pressure.
"From an academic and intellectual perspective, it's an exciting field to work in."
---
This work is licensed under a Creative Commons Attribution-NoDerivatives 4.0 International License.
Please view the republishing articles page for more information.
---