March 31 - April 6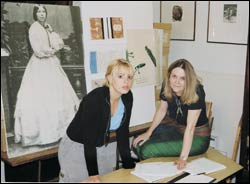 R1-m donated by De Beers and Mellon Foundation for Prof Pippa Skotnes (above) and Eustacia Riley to digitise one of the world's largest and richest folklore collections, the Bleek Lloyd Collection. Academic support and mentoring programme in the geological science department reports great success in graduating a growing number of black and female geologists.
April 7 - 13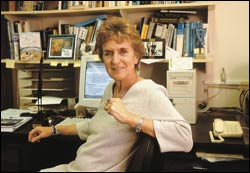 Dr Jackie King (above) of the Freshwater Research Unit wins a Woman in Water Award from the Department of Water Affairs and Forestry. Helpdesk logs its 100 000th call on its database (HEAT). SHAWCO celebrates its 60th anniversary and honours the contribution of founder, Dr Golda Selzer. Profs George Ekama (HOD, civil engineering) and Heinz Ruther (geomatics) are new South African Academy of Engineering Fellows. UCT's women's hockey team wins the 2003 indoor league. Table tennis star Jiajie Zheng, a member of the SA squad, takes the women's singles and doubles events in Mauritius.
April 24 - May 9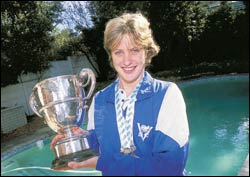 New drug therapy using artemisinin-based combination therapy slashes malaria cases in KwaZulu-Natal according to principal investigator, UCT's Dr Karen Barnes. UCT swimmer Ingrid Haiden (above) bags two golds and one silver medal at the Telkom South African National Aquatic Championships.
May 5-11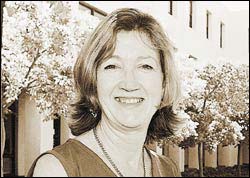 Prof Tim Noakes, Discovery Health Chair of Exercise Science, announces that, after a lengthy "war of words", USA Track and Field have adopted his hydration guidelines for their sporting events. Dr Ailsa Stewart-Smith (above) is the new head of the GSB's Executive MBA.
May 12-18
UCT remembers the 50th anniversary of the discovery of DNA and mourns the passing of ANC stalwart Walter Sisulu (above). Prof Joan Hambidge appointed deputy dean of humanities.
May 19-25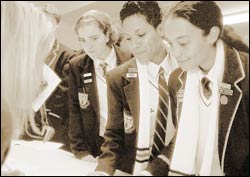 Postdoctoral student Dave Hatton coaches SA schools maths side to a second successive win at the Pan African Mathematics Olympiad. The new Department of Communication and Development, which incorporates the Development Office, replaces the old Department of Communication and Marketing. Close to 4 000 visitors flock to UCT's Open Day on May 10 (above).
June 2-9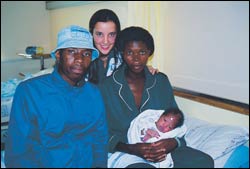 Prof Tim Noakes' Lore of Running wins the 2003 UCT Book Award. UCT's Prof Jake Krige and Dr Bruce Howard extract "liver baby" Nhlahla Ncise (above) from her mother's liver, a triumph for medicine and their superb surgical skills.
June 9-16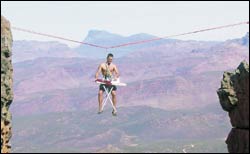 The Division of Medical Virology opens two state-of-the-art laboratories, including a biosafety level three (BSL-3) facility, a first for UCT, a move that allows the division to work with live virus cultures for the first time. Doctoral student Gordon Forbes and medical graduate Troye Wallett win the 2003 International Extreme Ironing Trophy, while hoisted across a 30-m-wide gorge in the Cedarberg (above).
June 17-22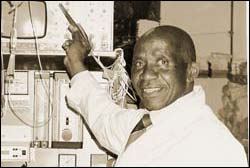 Satirist Pieter-Dirk Uys, Anglican Archbishop Njongonkulu Ndugane and former laboratory assistant Hamilton Naki (above) get honorary degrees at the June graduation. Master's graduate Ronwyn Brereton-Stiles wins the WWF-US Women in Conservation Award for her work in the Kosi Bay ecosystem.
---
This work is licensed under a Creative Commons Attribution-NoDerivatives 4.0 International License.
Please view the republishing articles page for more information.
---