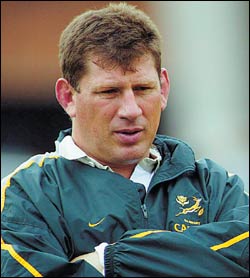 Celebration or decimation? Inappropriate motivational techniques have swung the spotlight back onto South African rugby, and coach Rudolf Straeuli has again been targeted by critics (Photo: Die Burger)
The Springbok rugby squad must be wondering where it is all going to end. First, a race row over shared accommo-dation. Second, an outcry over their mediocre sixth place at the Rugby World Cup. And, finally, a media brouhaha over the demeaning Kamp Staaldraad, news of which sent South African rugby officials scurrying to crisis talks late last week.
"Are we saying sport is war?"
It's a terse question that UCT sports psychologist Dr Helgo Schomer asks over the phone. He seems to bristle with indignation over the wire.
Schomer, who has worked with elite international athletes and, recently, a top soccer team, honing their mental strengths to complement their physical prowess, is appalled by the boot camp.
"Are rugby players soldiers? Are we preparing men to be degraded, to survive under duress and capture in the field?" There is a brief silence before he continues. "Sport is not war. It is a celebration of human excellence. Why break them down, demean them and humiliate them?"
For Schomer, the pit episode reflects deeper problems; problems understanding the psyche of top athletes. The rabbit-out-of-a-hat approach is wrong, he says.
"It takes a lifetime to build character and fitness. Thoughts change reluctantly. You can't break and rebuild a player in a weekend. You have to work with the existing building blocks established by parents, schools, society – Mental training is a long-term process, not a weekend camp. They tried to create a mental pill, a mental injection. It just doesn't exist."
Schomer is voluble in his damning of what he calls a "ridiculous and shameful" practice. Under mounting pressure from an unforgiving public, one can perhaps understand the necessity of training in harsh, isolated terrain.
But in a pit? And naked?
Over the phone, you can almost see Schomer shake his head.
"It's an extreme sort of sexual harassment. And then they publish pictures of the naked rugby players for the whole world to see. What about their wives, girlfriends and children? How do we explain it? They're great athletes. They have great bodies. But please, treat them as mensch."
Schomer would also like to know where in the squad's contracts there was mention of training naked while enduring physical privation.
South African rugby has reverted to old, outdated motivational techniques, ones the sport psychologist believes are wholly inappropriate anyway. The pit episode is also part of broader malaise, Schomer believes, a gap in our national approach to sport, an "unintelligent" kragdadige style that too easily eschews modern psychological methods of honing athletes to perform at their best.
"They're in a time warp with antiquated ideas."
And though South African rugby axes coaches faster than Stuart Dickinson can blow his whistle, Schomer believes there are good coaches in South Africa. "They just have to choose one that breaks the mould of the 'old boys' club', the powerful, dictatorial inner circle controlling rugby."
But it will have to be an enlightened coach. The England team, for example, certainly thought more about brain than brawn in their preparation for the RWC. After a recce of expertise, they called in a UCT graduate (nogal) to improve their players' eye co-ordination and reaction time. It was Dr Sherylle Calder that England coach Clive Woodward employed as the squad's full-time visual awareness coach.
Calder, who got her PhD from the department of physiology under the supervision of Professor Tim Noakes in 1999, had been with the Sports Science Institute of South African (SSISA) in Newlands at a company called Acuvue Sports Vision Centre. She is the only person in the country with a formal PhD in sports vision training, skills that would surely have served the Boks better than time in a hole.
But one can't help wondering: is the will to win driving players and coaches to desperate measures? And is the folly being fuelled by the unrealistic expectations of die-hard Bok fans and even rugby administrators with more to lose than just face?
"The glory of competition is that moment of reckoning," Schomer says. "Under pressure, we revert to our most practiced behaviour."
Another to question the value of the Kamp Staaldraad sojourn is Associate Professor Mike Lambert of the MRC/UCT Research Unit for Exercise Science and Sports Medicine (ESSM), based at the SSISA. "It's very hard to find the link between sitting in a pit in a gruelling situation and what you're trying to do on a rugby field," noted Lambert, who also serves on the SARFU scientific committee.
Squad members had been regulars at the SSISA's Discovery Health High Performance Centre (HPC) until July, and had in their run-up to the RWC called on the services of analysts at the Sports Technology Centre at the Centre for Scientific and Industrial Research (CSIR), clothing designers at Nike, and a cavalcade of fitness coaches, doctors and dietitians. How this cerebral take to training unravelled and ended up in a military-style grilling is unclear, noted Lambert.
There are plenty of good things happening in rugby coaching, Lambert pointed out. For one, he is running a longitudinal study - bankrolled by the South African Rugby Football Union (SARFU) - with Craven Week players to learn why so many promising talents are not breaking into the next level of the game.
"The structures were in place for the Springboks," he said. "They just weren't put to their best use."
In a recent piece on M-Net's Carte Blanche, a number of players - notably skipper Corné Krige, scrumhalf Joost van der Westhuizen and full-back Ricardo Laubscher - came out in vocal defence of the "rugby boot camp".
"One of the positive things was that we learnt to stand together," said Laubscher on the programme. "We learnt to help each other, because in times like those it was difficult, so one doesn't have a choice."
So - antiquated or not - did the camp not do the job? Even if the Boks did not win the World Cup, did they not go into the event mentally charged and unified?
"I think it's the general consensus that it's not the appropriate way to prepare athletes for a major competition in the 21st century," counters Tim Noakes. "Or certainly not in the last month before a major competition."
Schomer believes, however, the "bizarre and ludicrous" incident can work positively for rugby. "It provides an opportunity for a clean sweep. 'Out, all of you'."
Once over his disbelief and anger, one thing still intrigues Schomer: who was clever enough to sell this idea to the Bok team?
"I want to meet him. He must be a helluva salesman," the sports psychologist muses.
---
This work is licensed under a Creative Commons Attribution-NoDerivatives 4.0 International License.
Please view the republishing articles page for more information.
---