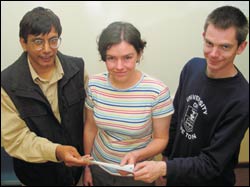 Felicitations: Keswick lucidity prize winner Kirsten Morreira (middle) received her cheque from linguistics head Prof Raj Mesthrie (left) and was congratulated by staff member Sean Bowerman.
Honours linguistics student Kirsten Morreira has won the 2003 Keswick Prize for Lucidity, sponsored by Sir Chips Keswick of Hambros Bank in the United Kingdom. The prize was awarded for Morreira's essay Foreigner Talk and carries a R7 000 purse.
In her adjudicator's report Dr Ailsa Stewart-Smith wrote: "Ms Morreira managed to write a very informative essay on a specialist subject that would be assessed by a specialist in that field, yet she still produced very readable and interesting work for a non-specialist."
But for Stewart-Smith, the most impressive ingredient of Morreira's lucid product was that Morreira used technical terms sparingly - and nearly always with an explanation.
The term "foreigner talk" in Morreira's work refers to the type of simplified language used when mother-tongue users of a language speak to foreigners.
"The similar means of achieving such simplicity, across languages, give us an insight into the processes of the human language faculty. This, in turn, is important for an understanding of the possible processes involved in the creation of pidgin languages," Morreira said.
Professor Raj Mesthrie, head of the linguistics section of the English department, endorsed the award.
"Ms Morreira has impressed staff from her first year as an undergraduate with her ability to grasp complex issues and synthesise them in a remarkably pellucid writing style."
Morreira's essay arose from a third-year research project based on second-language acquisition theory, taught by Mesthrie.
"The literature review and analytical insights would not have been inappropriate at the PhD level," he added.
Morreira has won the linguistics class medals every year since she began her studies and will receive her honours degree with distinctions when she graduates next month.
---
This work is licensed under a Creative Commons Attribution-NoDerivatives 4.0 International License.
Please view the republishing articles page for more information.
---