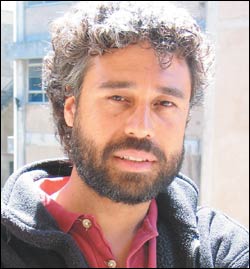 Just reward: Civil engineering's Ashley Muller has won this year's S2A3 Bronze Medal, the South African Association for the Advancement of Science's top honour for South African master's theses.
Civil engineering's Ashley Muller has won the South African Association for the Advancement of Science's prestigious S2A3 Bronze Medal, its highest honour for South African master's students in all science fields.
While Muller's thesis title, Measurement of Ordinary Heterotroph Organism Anoxic Yield in Anoxic-Aerobic Activated Sludge Systems, may be a bit of a mouthful, his research underpins a keen commitment to public health through the provision of clean, potable water.
"Protecting clean water resources from wastewater is an important part of reducing water-borne diseases like dysentery and cholera," he said. As such, Muller is particularly interested in environmental engineering, which, he says, falls within the overlap of traditional engineering practices.
Currently enrolled for a PhD in the field (he started in July), Muller said the award was a great honour and had come as a pleasant surprise. Hard at work on his PhD, he had already put his master's thesis out-of-mind.
His academic career has been studded with excellent results. Matriculating with an A aggregate from St Columba's High School in Athlone in 1984, Muller began an undergraduate degree in chemical engineering at UCT before receiving a scholarship to study in the United States in 1986. He has a Bachelor of Arts (engineering and science) and a Bachelor of Engineering (bio/chemical) from Dartmouth College and the Thayer School of Engineering, respectively, in New Hampshire.
Muller won a place on the Dean's Honour List and received the WEN du Bois Award for Academic Excellence at Dartmouth College in 1987, as well as consistent Dartmouth College Black Community Honours awards (1987/8/9).
Returning home to South Africa after working for the City of San Francisco for 10 years was an easy choice after the dramatic shift in ruling politics. "I had also always wanted to pursue postgraduate studies and the UCT Water Research Group is among the leaders in this field," he said.
Steered by Professor George Ekama and Associate Professor Mark Wentzel, the group's novel, "external nitrification" wastewater treatment system is on a two-year trial at the Daspoort plant in Tshwane, or greater Pretoria municipal area. There, the municipality has made substantial equipment modifications and Muller is conducting full-scale experiments in the system for his PhD.
The S2A3 Bronze Medal represents an important acknowledgement, says Muller. "The biggest thing for me was the recognition the award brings for the hard work in the laboratory. You often work alone and only your professors and closest family and friends know the commitment of time and effort that this kind of research demands, which is only really possible through their encouragement and support."
He also has praise for his supervisors, colleagues and laboratory staff, believing the award is a testimony to the quality of training and dedication within the WRG.
"Research in biological wastewater treatment was pioneered at UCT and has become established in the world as the 'UCT Process', reflecting the depth of knowledge and strength of scholarship in this area within the department," he added.
Essentially, the UCT Process is a biological nitrogen and phosphorus removal activated sludge system configuration, one that is widely implemented for wastewater treatment in South Africa and internationally.
It is an area that has brought Muller back to one spot on that map; to the tip of Africa where his current research on external nitrification has received acclaim as a finalist in the Technology and Human Resource Improvement Programme (THRIP) excellence awards and which is supported by the Water Research Commission and Water Sanitation Services South Africa.
---
This work is licensed under a Creative Commons Attribution-NoDerivatives 4.0 International License.
Please view the republishing articles page for more information.
---