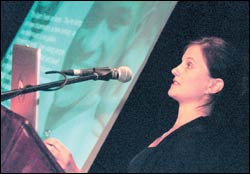 Trendy youth: Sarah Bovim from the UCT Unilever Institute of Strategic Marketing, who presented the findings of the TrendYouth 2 project at the Baxter Theatre on October 29.
Anyone who has ever visited Cavendish Square on a Friday or Saturday night will be familiar with the sight of hordes of young children who, dressed in the latest branded apparel, huddle together in groups and organise their hectic social lives on the trendiest of cellphones.
It is this very group of youngsters who, due to their spending habits of over R4-billion a year (their parents spend an additional R20-billion on them), was the focus of a recent study conducted by the UCT Unilever Institute of Strategic Marketing.
The institute's TrendYouth 2 project examined the lives of South Africa's seven-to 17-year olds with the aim of gaining insight into this broad and complex market, and to signpost the way forward for all marketers hoping to reach these young consumers.
According to Professor John Simpson, director of the institute, this group is the most marketing-sussed generation ever.
"They understand brands better than adults and even have the confidence to reject them. Some research indicates that children as young as four are able to recall up to 90 brands. As a group they learn about brands at a very young age, even if these aren't products they've started to use."
Known as the "Born Frees", this generation is the largest in South Africa and abroad. Thirty nine percent of South Africa's population is under the age of 18 (17.3 million children) of which 11 million are aged between seven and 17.
Besides being the largest group in South Africa, these Born Frees are also influential, colour blind (different cultural and racial groups mix freely, have similar attitudes and aspire to the same products and brands), extremely materialistic and highly techno-literate.
Technology impacts on how these children communicate and their mastery of it increases their confidence. With immediate access to the world 24 hours a day seven days a week, multi-tasking comes naturally to the Born Frees, who hold interactivity in high regard.
Similarly, this cellphone-crazy generation have ensured that children's use of cellphones has doubled in the last two years. Ninety five percent of children who have cellphones now communicate via SMS messages, compared to 8% in 2001.
Yet at the same time, these children face intense and varied pressures which see them growing up faster than previous generations.
"This trend is known as the Kids Getting Older Younger (KGOY) phenomenon and has a particular expression in South Africa," explained Simpson.
"Specific pressures on our kids include AIDS, urbanisation, 'westernisation', crime and violence. Not to mention our melting pot of cultures, conspicuous consumption and the presence of very few constructive role models."
Involving over 3 000 face-to-face interviews and 15 qualitative focus groups nationwide, the institute's research showed that while parental role models are influential during children's earlier years, it is their peers and friends who exert more influence as they grow older.
The research involved over a year's work and included a multi-disciplinary team comprised of Simpson, Professor Andy Dores, Sarah Bovim, Bridget Baalbergen and partners from the commercial sphere. With the help of Dores, a youth model was created based on developmental psychology principles but taking into account the differences and similarities between the "Have Nots" and "Have Lots" among South African youth.
By the time they turn 12, brands and labels become the vehicle through which acceptance to a desired peer group is attained and confidence is built. While by 16 and 17, brands are used to help construct their identities.
The findings of TrendYouth 2 also showed that this is a fast-changing and very complex age group. Simpson said: "Far from being a single target group, each sub age group has its own characteristics, rejecting the age group that went before and aspiring to the age group ahead. For example, a 12-year old will not want to wear what a younger sibling is wearing."
Exponents of responsible marketing, particularly when it comes to such an impressionable and vulnerable group of children, the institute hopes their research will highlight the ethical considerations marketers need to be aware of.
"It is not always in the self interest of marketers to pitch brands to a younger and younger audience," said Simpson. "In their effort to grow up as fast as possible, these kids tend to reject any brand they associate with a previous age group.
"Furthermore, any breach of effort when marketing to kids will be picked up quickly by parents and could cause long-term damage to the brand. Our study identifies key principles of responsible marketing, which are essential to consider if you are talking to this dynamic but impressionable target group."
The implications of the study reveal that marketers need to "suspend logic and think like a kid again". Successful marketing to this group will be adept at bringing in new users while extending relevance to existing users, it will be imagination-led rather than need-led and it will require a network of media operating simultaneously, noted Simpson.
"Children move through life being extreme conformists at a young age, dependent hugely on peer group influence, to an age where they start to make their own decisions regarding brand choice and self identity, but still within certain social and brand parameters.
"Marketers must understand this and show maximum respect when communicating with this generation."
Simpson recently won a marketing excellence award from the Marketing Federation of South Africa in the category Marketer of the Year.
---
This work is licensed under a Creative Commons Attribution-NoDerivatives 4.0 International License.
Please view the republishing articles page for more information.
---