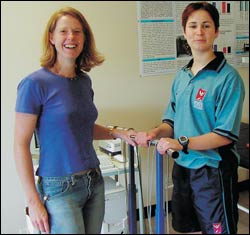 Fat gauge: The SSISA's Liesl Grobler (left), here with subject Tia van Dyk, is gearing up to measure the body fat of 1 000 subjects.
Have you ever wondered just how much body fat you are carrying? Come and have your body fat and body composition assessed free in just 15 minutes at the Sports Science Institute of South Africa (SSISA).
The UCT/MRC Research Unit for Exercise Science and Sports Medicine is conducting a research trial that involves the measurement of individuals' bioelectrical impedance. This painless procedure entails passing a very small electrical current through the body (which you don't even feel), during which time the resistance, or bioelectrical impedance, experienced by this current is measured.
This is used to estimate the individual's percent body fat and percent lean tissue (ie body composition).
Usually bioelectrical impedance is measured with the subject lying down, but now there is a machine that measures it while the person is standing. Therefore, the purpose of this study is to validate the measuring bioelectrical impedance in the standing position.
Approximately 1 000 male and female subjects, between the ages of 15 and 70, from all ethnic backgrounds, are required for this study.
For more information or to book a time to have your body composition measured, please contact Liesl Grobler on (021) 650-5125 or at lgrobler@sports.uct.ac.za.
---
This work is licensed under a Creative Commons Attribution-NoDerivatives 4.0 International License.
Please view the republishing articles page for more information.
---