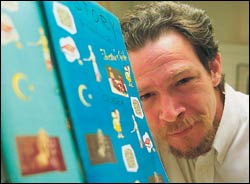 History buff: Librarian-cum-author-cum-educator Alex d'Angelo has recently toasted the release of his first grade four history textbook.
After a string of popular children's stories and two prized spots in a collection of tales dedicated to Nelson Mandela, UCT librarian-cum-author Alex d'Angelo has turned his hand to history textbooks.
Manager of Commerce Information Services in the Nedbank Commerce Library by day (with the occasional late shift), raconteur by night - "less psychological pollution when everyone else is sleeping" - D'Angelo has recently celebrated the release of History: The Time of Your Life, a grade four textbook and its companion educator's guide. Matching sets for grades five and six are in the pipeline.
A sworn history buff, D'Angelo had routinely woven a few historical asides - of errant Caribbean pirates, for instance, who often dogged vessels to within sight of Table Mountain in their 18th century heyday - into his three volumes of children's stories, The Trouble with Sannie Langtand (which was later translated into Afrikaans), Asmodeus and Sannie Langtand Rides Again. (Two pieces from these books were included in Madiba Magic: Nelson Mandela's Favourite Stories for Children last year.)
Given his penchant for the subject, D'Angelo was approached by CLS Publisher's Leon Smit to produce a suite of history textbooks - the company's first - starting at grade four.
Teapot within reach, D'Angelo began his research, toiling over, for one, the national Department of Education's Revised National Curriculum Statement (RNCS). "Writing was fast," he reported, "but planning was slow."
He did get it done, though, and the grade four textbook and teachers guide were released by CLS in September.
The volume begins with an introduction to the subject, with D'Angelo explaining, among other things, what the study of history is and how far it goes back ("All the way back!"). He then covers everything from family trees to the evolution of names and surnames, and dedicates a chunk of the textbook to South African figures both renowned (Mandela, Helen Suzman, Johnny Clegg and Desmond Tutu, et al) and not-so-well-known (artist Gerard Sekoto and 17th century Islamic teacher Sheikh Yusuf, among others).
While he likes to think of writing history as writing a story, penning textbooks is a far cry from fashioning children's tales, he conceded. "I'm a lot more careful - and more measured - about how I write things when I do the textbooks," he noted.
"Writing children's fiction is playtime, and while writing history books gives me a lot of joy, it's definitely not playtime. I'm very aware that somewhere out there there's a classroom full of children who have to sweat their way through this, so I really must do my best to make it as interesting for them as I can."
While it's still too soon to start checking sales slips just yet, D'Angelo is particularly pleased about how popular the educator's guide has been, with teachers from "natty" schools like nearby Rondebosch Boys' Prep and SACS, as well as La Rochelle Girls Primary in Paarl, among others, picking them up.
"I find it quite a compliment that experienced teachers want to use it," he said.
In shaping the books, he was also quite taken by the RNCS, D'Angelo observed. "It's got a lot to do with making kids think, and getting them to ask questions."
And he's keen to share his enthusiasm for the subject with learners, D'Angelo noted in the introduction to the educator's guide. "I hope above all that the children who read this little book will go on to develop the love of history which has been such a great source of pleasure and interest and excitement to me throughout my life.
"I developed my love of history through private reading as a boy, often despite the structures of the old curriculum. I hope that today's children will go on to develop their love of history because of the RNCS."
---
This work is licensed under a Creative Commons Attribution-NoDerivatives 4.0 International License.
Please view the republishing articles page for more information.
---