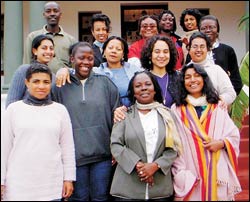 United front: Participants at the AGI's GWS Africa workshop were, (from left, back) Augustine Kimonyo, Dr Emebet Mulugetta, Dr Dzodzi Tsikata, Dr Sylvia Tamale, Dr Priya Narismulu and Prof Abiola Odejide. (From left, middle) Shaheena Karbanee, Josephine Ahikire, Lebohang Letsie, Prof Amina Mama, and Shereen Essof. (From left, front) Dr Akosua Adomako Ampofo, Prof Takiywaa Manuh and Dr Charmaine Pereira.
To this end, UCT's African Gender Institute (AGI) recently hosted the second of two meetings of the curriculum working group of the Strengthening Gender and Women's Studies for Africa's Transformation (or GWS Africa) project, corralling teachers and researchers from African universities where gender studies are taught.
The project, funded by the Ford Foundation since 2001 to the tune of R3.3-million, plans to strengthen teaching and research in gender studies by bringing scholars together for a series of training, research and publishing activities.
The emergent scholarly network includes over 100 members from 27 universities and various research centres in South Africa, Botswana, Cameroon, Ethiopia, Ghana, Kenya, Nigeria, Uganda and Zimbabwe.
"The GWS Africa curriculum working group," explained UCT's Chair of Gender Studies, Professor Amina Mama, "aims to strengthen the teaching work that all of us who teach gender studies in Africa do, and the group's meetings offer an opportunity to reflect on key questions: how gender studies have evolved in Africa, who we teach, how we teach, and is what we teach relevant and useful to the challenges of regional development and transformation?"
The goal of the group's two workshops over the past few months - the first was hosted at the University of Ghana in May 2003 - is to design a core curriculum for gender studies, one that would be made available to African universities. This, said Mama, would ensure intellectual dialogue in what is taught at these universities and centres.
A recent survey, she added, had pointed to interesting variations in institutions' curricula.
"We found that everybody's teaching politics or policy, but out of the 27 institutions, only two admitted to teaching about matters of identity, sexuality and culture," noted Mama. "Yet, when you look at why development in Africa often fails, it's because of these issues of identity, sexuality and culture."
"They're not treated seriously, therefore the unforeseen interruptions of development come through an inadequate understanding and theorisation of the root stuff - who we are and what we do to each other."
Drafting a core curriculum that each of the institutions will work from, will hopefully remedy such omissions, said Mama.
All the teachers need now are more time and headspace, she added. "We're all too busy to even think, let alone to sit down and think collectively how to improve the things we do."
---
This work is licensed under a Creative Commons Attribution-NoDerivatives 4.0 International License.
Please view the republishing articles page for more information.
---