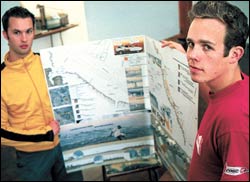 Model students: Lawrence van Tonder (left) and Mark Bullivant have won the 2003 Murray & Roberts Des Baker Student Architectural Awards.
UCT students Mark Bullivant and Lawrence van Tonder so impressed judges with their entry for the 2003 Murray & Roberts Des Baker Student Architectural Awards, that the two were handed both first and third prizes at the competition.
The awards, considered the premier accolade of their kind in the country, are made each year to third-year students - who compete individually or in teams of two - registered at a South African architectural institution. Students have to design a model around a broad theme set by event organisers, the South African School of Architecture.
Bullivant and Van Tonder, third-year Bachelor of Architectural Studies (BAS) students in the School of Architecture, Planning & Geomatics, scooped this year's laurels for their project, (De)Fence. In response to the competition's brief to design a meeting space where a fractured "Edge City" becomes a thread between places and people, the duo suggested a fresh take to the imposing fence currently stretching along the N2 past the Nyanga and Khayelitsha townships and beyond.
"We looked at the fence," said Bullivant, who regularly drives past the barricade on his way to his parents' home in Somerset West, "and questioned what it does, what it was meant to do and what we're told it does."
"We saw the fence as a divider, hiding people in the squatter camps behind it," added Van Tonder. "So we just turned it on its side, in a manner of speaking, and made a walkway out of the fence."
In addition to a walkway, the duo's model also boasts tables and chairs [framed out of the fence pillars], soccer fields, and space for other buildings.
"We realised that the fence had failed in its goal," noted Bullivant, "that there's still lots of activity along the fence, that there are still people crossing the roads, and that there are still kids playing soccer on the side of the road. So we took this dividing element and then kind of reconstructed it into tables, chairs and a walkway, which is in complete contrast to what it was before."
The competition judges were so taken by the concept that they decided to award (De)Fence both first and third prizes in the event.
Bullivant and Van Tonder could not, however, make it to the University of Port Elizabeth where the South African School of Architecture hosted its annual students' conference and prize-giving ceremony this year, to enjoy the moment.
After taking two weeks out to design and build their model, the two had to catch up with their regular work.
---
This work is licensed under a Creative Commons Attribution-NoDerivatives 4.0 International License.
Please view the republishing articles page for more information.
---