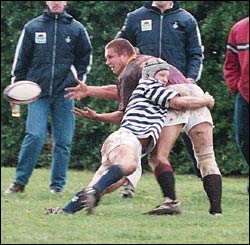 Holding on: UCT's Pieter Keevy puts in a hard tackle on a Stellenbosch player in the side's most recent clash.
FNB UCT - as happened in the two sides' first clash earlier this year - came close to upsetting arch-rivals Maties again, but went down as the Stellenbosch students snatched an eleventh-hour victory at UCT on Saturday, September 27, the final day of the season.
Although UCT led for most of the match, it was league champions Maties who won the game, two injury-time penalties giving them a 28-24 victory.
UCT wings Anthony Roberts and Pieter Keevy (who also touched down when the sides met in Stellenbosch in May) both scored spectacular tries, while Anthony Knox slotted two conversions and four penalties.
While the first team had to settle for fifth place in the Super League A log (11 wins, one draw and ten defeats), the UCT third side - one of three UCT teams to beat their respective Stellenbosch counterparts on the day - won the group 3 league title.
The latter sealed their season and league laurels with an 8-0 win over Stellenbosch Akkers.
The fifth (MC Marais XV) and fourth teams also finished first and second respectively in the reserve league, and the UCT C (Ikey Cubs) side took top honours in the under-20 group C2 league.
The UCT Hiddingh side - UCT oldies - also won their reserve league.
---
This work is licensed under a Creative Commons Attribution-NoDerivatives 4.0 International License.
Please view the republishing articles page for more information.
---