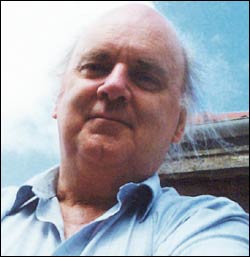 Dist Prof Brian Warner.
Astronomy's Brian Warner, one of two Distinguished Professors in the science faculty, has been elected as one of the International Astronomical Union's vice-presidents.
"This is a major honour for UCT and for the country," said dean of science Professor Daya Reddy. "South Africa has only once in the past been represented on the IAU's executive committee when around 20 years ago Professor Michael Feast, who was then director of the Astronomical Observatory, was a vice-president." (Feast is an Honorary Professor in the astronomy department.)
Warner was in the United Kingdom shortly after the news broke. He is one of six IAU vice-presidents which also include Beatriz Barbuy (Brazil), Cheng Fang (China), Kenneth Pounds (United Kingdom), Silvia Torres-Peimbert (Mexico) and Robert Williams (United States).
Established in 1919, the IAU promotes and safeguards the science of astronomy, in all its aspects, through international co-operation. Its membership is made up of 8 300 professional astronomers from 66 countries around the world, either at PhD level or beyond and active in research and education in astronomy. The IAU also has links with a range of organisations, some including amateur astronomers.
And if you ever wondered who named new finds in the outer realms of space, the IAU also serves as the internationally recognised authority for assigning designations to celestial bodies - and any surface features they may have.
As a vice-President, Warner is a member of the IAU executive committee, which implements the organisation's long-term policies. The focal point of the union's activities is the IAU Secretariat located at the Institut d'Astrophysique in Paris.
---
This work is licensed under a Creative Commons Attribution-NoDerivatives 4.0 International License.
Please view the republishing articles page for more information.
---