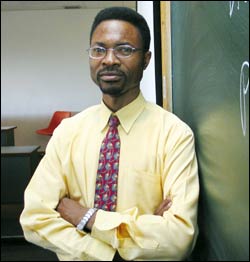 Brave new drugs: Kapinga Bamuamba hopes new plant extracts will provide the basis for new TB treatments.
Medicinal plant species unique to the Cape Floristic Region may give rise to novel anti- tuberculosis (TB) drugs, which could provide relief to the estimated two billion people who are infected with the disease worldwide.
Research by a PhD student from the Department of Molecular and Cell Biology has shown that six purified compounds from five plant species, collected throughout the Cape Peninsula, are active in combating mycobacterium TB.
With eight million new patients diagnosed with TB every year, Kapinga Bamuamba hopes his research will highlight the fact that new anti-TB drugs may lie right on our own doorstep.
Containing a whopping 10% of the world's 250 000 plant species, Bamuamba believes that South Africa possesses a wealth of natural and human resources, which can be used to tackle TB.
"Eighty percent of the world's population rely on the use of traditional herbal medicine," explained Bamuamba.
"Yet, less than five percent of South African medicinal plants have been scientifically investigated." Although current anti-TB treatments are effective, they continue to be problematic, he said.
"Courses of TB medication are too long, too heavy and too complicated and together with ignorance, poverty and HIV/AIDS, this leads to patient non-compliance.
"We need a new anti-TB drug, which should be cheap and efficient enough to allow for a short course to be taken."
He said such a treatment should also involve a simple medication regiment, only two or three tablets per day if possible, and should have negligible toxicity and side effects.
"Look no further than our wealthy and generous neighbours - our forests and oceans," he said. "They contain the answers."
With the help of a botanist, Bamuamba collected the five plant species from which he prepared crude extracts, following the bioassay guided fractionation process.
He isolated eight purified compounds of which six were active when tested against mycobacterium TB.
"The results are promising, because the plants contain compounds that actually kill mycobacterium TB without being toxic to a mammalian cell line, Chinese hamster ovarian cells," he enthused.
And that, unfortunately, is where the outcome of Bamuamba's research ends for the purpose of this article.
Pending the registration of a patent, the exact identification of the plant species and the intricacies of his research are shrouded in secrecy.
So where to from now? Bamuamba concedes that much work still needs to be done, including a complete structure elucidation of all eight isolated compounds and the retesting of anti-microbacterial TB activity using a newly developed bioautographic technique.
"Because all my research has been conducted in vitro, I still need to do in vivo testing as well as a structure activity relationship study and synthesis.
"It is a long process, one that can take up to 10 years. It has the potential to culminate in clinical trials and, hopefully, new drugs."
The first step along this long road begins with Bamuamba presenting his research at the 3rd International Symposium on Natural Drugs held Naples, Italy, from October 2 - 4.
An abstract of his presentation will also be published in the symposium's brochure of abstracts.
Supervised by Drs Paul Meyers and David Gammon, Bamuamba's research is funded by the National Research Foundation, while his trip to Italy has been sponsored by the Postgraduate Funding Office and his department.
Originally from the Democratic Republic of Congo (DRC), Bamuamba worked as a pharmacist in an Eastern Cape hospital for five years after which he went to the University of the Western Cape where he completed his master's in pharmacy.
Looking for a new challenge, he decided to do a PhD, which brought him to UCT in June 2001. "I believe that scientific will, together with South Africa's potential, can bring forth prosperous repercussions for all.
"I feel happiest when I'm in my lab and getting results, especially when you go from nothing to something. Dreams come true right before your eyes."
---
This work is licensed under a Creative Commons Attribution-NoDerivatives 4.0 International License.
Please view the republishing articles page for more information.
---