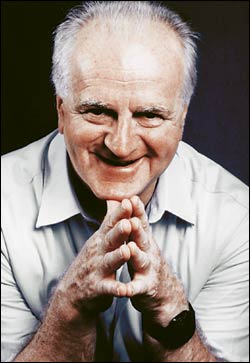 Ensuring the survival of opera: Prof Angelo Gobbato recently celebrated a 40-year career of teaching, performing and directing opera.
The heart-warming voices of UCT Opera School students singing at the Baxter Theatre dissipated the bitter cold of the wintery August evening, writes NICOLE CHIDRAWI.
Performing the opening scene of Smetana's The Bartered Bride, the singers were being used by Professor Angelo Gobbato, head of UCT's Opera School, as part of his inaugural lecture to illustrate the incredible transformation the vocal arts have achieved in South Africa over the past ten years.
The performers, all first- and second-year students bar two soloists, clearly demonstrated the vocal quality, numbers and demographics that Gobbato wished to display in his lecture, entitled Towards the Creation of a Transformed South African Operatic Aesthetic, in a more entertaining manner than the mere recital of statistics.
However, since Monday Paper cannot visually demonstrate the performers, a written explanation will hopefully suffice.
At present, 100 students are enrolled at the Opera School, with 35 new students being admitted for the current academic year. Only eight of the 100 students are white, with two of the eight being German nationals.
In contrast, in the late 1980s and early 1990s an annual intake of ten new students was considered normal, with an average total registration of about 40 students. During those years, it would have been exceptional to find more than one or two black students enrolled in the whole school.
According to Gobbato, the transformation of the vocal arts has been spearheaded in Cape Town, but its effects are being felt nationwide.
"Pretoria Technikon, for example, currently has a total of 50 registered students, with an intake of 28 new students for the 2003 academic year," he explained. "Sixty percent of the students are black."
In addition, international interest in South African vocal talent has resulted in the recent establishment of a new opera school at a Durban university, largely funded by foreign capital.
South Africa undoubtedly possesses many operatic voices of international potential and the perception of opera as an outmoded, expensive, elitist and Eurocentric form of artistic expression, of very little interest or relevance to the vast majority of South Africans, has been changed.
But Gobbato believes that if the preservation and development of South Africa's gifted singers is to continue, a new audience must be reached and retained.
"In a country such as ours, with its many different cultures and its long history of fragmentation, it will not be a simple matter to create a single set of aesthetic parameters to which operatic performances should conform, neither would it necessarily be desirable."
He continued: "This new audience must be increasingly informed so that their taste will develop and it is only out of this new audience that a truly transformed South African operatic aesthetic will emerge."
The successful collaboration between Cape Town Opera (CTO) and UCT's Opera School has resulted in a greater number of operatic performances being given in Cape Town than in any other South African city at present.
Nevertheless, CTO's current annual number of productions is still significantly less than the annual menu presented at the Nico by CAPAB Opera in the late 1980s.
For Gobbato, the irony is that whereas a large amount of lucrative operative work was available for a few select, mostly white singers previously, now a large number of well-trained and gifted vocalists of all racial denominations must "scrabble" for a very small amount of poorly paid operatic work available in the country.
"If we are to provide the wealth of superb South African voices with the professional opportunities they so richly deserve, it will be necessary to provide them with more work in their home country, which implies increasing the available funding," he said.
In the early 1990s Gobbato was introduced to the work of Michael Williams, who was taking opera to the then segregated black schools using colourful African tales set to various traditional western operatic forms.
Williams presented Gobbato with his libretto for Enoch: Prophet of God - an opera based on the historical Bulhoek massacre of the Israelites, which took place near Queenstown in 1921.
Roelof Temmingh was commissioned to compose the music, while Lungile Jacobs collaborated by choosing and arranging the traditional Xhosa songs and hymns, which were used in the ritual scenes of the opera. Performed as part of the 1994 Cape Town Opera Festival, the opera was very well received by critics with excellent audience attendances.
"To my knowledge, Enoch was the first South African opera to be composed and produced since the advent of the new South Africa," Gobbato commented.
Gobbato also collaborated with composer Peter van Dijk and director Brett Bailey on a "paraphrase of Verdi's Macbeth".
"I took my cue from Verdi's stated intention on focusing his musical drama on the witches and the two Macbeths, suggesting that the piece be set in the world of the African sangoma, in an attempt to create something akin to an original piece of South African music theatre," he said.
The success of the aesthetic principles behind the Macbeth project meant that when CTO was approached to produce three operas for the 2002 Spier Festival, Gobbato was requested to propose a piece that could be treated in a similar manner.
"I felt that Purcell's single act opera, Dido and Aeneas, had strong possibilities with its mythical betrayal of an African Queen by a western European hero," said Gobbato.
"Rather than adapting Purcell's music, the Baroque dance divertissements were replaced by African dances whose music was created by Amampondo under the direction of Dizu Plaatjies and a praise singer delivered a new African prologue."
An African aesthetic perspective was further enhanced by an effective abstract set design flanked on the right by a period orchestra and western chorus required for Purcell's music, and on the left by the African percussion instruments required for the dances.
Gobbato concluded by emphasising that the creation of completely new and original South African operas will be the most important and essential element for the long-term and meaningful survival of the art form in our country.
---
This work is licensed under a Creative Commons Attribution-NoDerivatives 4.0 International License.
Please view the republishing articles page for more information.
---