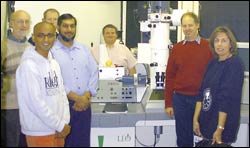 Seeing clearly: UCT's new electron microscope was installed recently, a boon to the structural biology master's programme. Photographed at the installation were (from left) John Brink, Arvind Varsani, Brendon Price, Mohammed Jaffer, Marco Arienti, Prof Trevor Sewell and Liz van der Merwe.
The master's programme in structural biology has been bolstered by a new acquisition, a R3-m LEO 912 electron microscope offering high standards of imaging and analysis.
It was installed in July and gives students and staff access to new features. The old model dated from 1980.
The new instrument can be controlled by computer, has a digital camera and is capable of automatically collecting tomographic data, enabling researchers to produce three-dimensional reconstructions of cells.
The innovative model has an integrated Omega-type imaging spectrometer operating at acceleration voltages up to 120kV. It features highly advanced multi-layer computer control of all the microscope functions and components as well as an electron optical column with "unprecedented" imaging capabilities.
Special features include an energy filter, a CCD camera and Köhler illumination. The latter is important because illuminating the specimen is probably the most important variable in achieving high quality in microscopy. (Köhler illumination was first introduced in 1893 by August Köhler of the Carl Zeiss Corporation as a method of providing the optimal specimen illumination.) The Köhler technique produces specimen illumination of uniform brightness.
The master's programme is run jointly with the University of the Western Cape and the Nuclear Magnetic Resonance (NMR) facility at Stellenbosch.
There are currently six students registered for the master's degree, three from UCT and one each from Emerson College in Kenya, Kwame Nkruma University in Ghana and the University of Nigeria.
Structural biology explains biological phenomena in terms of three-dimensional structures at the atomic level. It is the science that underpins biotechnology. Professor Trevor Sewell, executive director of the Electron Microscope Unit, said a formal launch function would be held in due course.
---
This work is licensed under a Creative Commons Attribution-NoDerivatives 4.0 International License.
Please view the republishing articles page for more information.
---