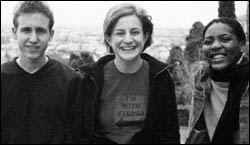 To the victors the spoils: (From left) UCT debaters Rob Garlic and Kate Orkin (the winning team) with Sithembile Mbete (Best New Adjudicator), stars of the recent National Universities Debating Championships at RAU
UCT has emerged triumphant from this year's National Universities Debating Championships, bringing home the winner's and best speaker's trophies for the first time.
The team also notched up a victory for youth. Kate Orkin and Rob Garlick from UCT C won the English First Language trophy and shared the Best Speaker Award. They were the youngest team ever to win either of these accolades. Garlick is a second-year BCom student and Orkin a first-year BSocSci.
The event, hosted at the Rand Afrikaans University (RAU), drew 270 students from 19 southern African universities and technikons for Africa's biggest debating competition. The UCT team competed against Rhodes, the University of Natal, Durban, and another UCT team in the final on the motion This house would make the sexual history of rape victims admissible as evidence.
Orkin said the event had been an unprecedented success for the entire UCT contingent. "UCT has made the finals only once before, in 1999."
In addition to the winning team, UCT B, comprising Kerry Mauchline and Tanya Budlender, also made the final and were ranked fourth and fifth, respectively. UCT D, comprising Nick Friedman and Dave Simonsz, were first in the round robin but were knocked out in a close semi-final.
Adjudicators also did UCT proud. Sven Welzel was the deputy chief adjudicator and Sithembile Mbete won Best New Adjudicator.
The finals were hosted in the Gauteng Legislature and attended by the Minister in the Presidency, Essop Pahad.
In another first, UCT entered three teams in the English Second Language category this year.
"This reflects the rapid transformation the UCT Debating Union has undergone this year," Orkin commented. "With 160 undergraduate and postgraduate members from across the faculties, the union is a diverse collection of outspoken and out-going individuals."
There is more reason to celebrate as UCT has won the bid to host the championships in 2004. An organising committee is already at work to raise sponsorship.
Further news is that eight members of the Debating Union were involved in a car accident near Calvinia on August 31. As part of the loveLife Games programme, the group was travelling in a hired combi to adjudicate a provincial schools debating competition in Upington over that weekend.
Monday Paper can report that Abigail Molotchwa has been transferred to Groote Schuur Hospital's spinal unit. Hospital sources say she is in a stable condition and is waiting to undergo surgery.
---
This work is licensed under a Creative Commons Attribution-NoDerivatives 4.0 International License.
Please view the republishing articles page for more information.
---