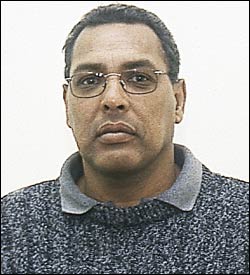 Good fortune: UCT's Stephen Fortuin, a volunteer with Wilderness Search and Rescue.
When four first-year mechanical engineering students got stuck on Devil's Peak after they'd gone up to seek snow, little did they know that one of their rescuers would be a fellow member of the UCT community.
The four were airlifted off Devil's Peak on the evening of August 20 after they had lost their way and were trapped on the slopes of the mountain after dark in rain-soaked clothes and in freezing weather.
It so happened that the same evening Stephen Fortuin, a chief technical officer in medical biochemistry at UCT, was the duty manager for the Wilderness Search and Rescue (WSAR). Fortuin volunteers for the rescue organisation in his spare time.
He was alerted to the crisis at about 21h20 and immediately realised how dangerous the situation was.
"A night on the mountain in these weather conditions could be potentially fatal," he said. Alone on the mountain the students, Jenna Nicolson, Andrew Kinnel, Stephen Morrow and Yogeshwa Gooljar, alerted a friend who in turn made Campus Protection Services (CPS) aware of their situation. CPS contacted the Rondebosch police, who started the search before WSAR got involved.
In the meantime, a police helicopter with a strong searchlight circled the mountain in search of the students who were then spotted, waving their arms wildly, near King's Blockhouse. With Fortuin's help, the police dropped two members of the WSAR close to the students. They were led to a safe area where the helicopter could pick them up, two at a time.
"More time in the cold could have led to hypothermia with tragic consequences," said Fortuin.
None of the students needed medical attention when they were finally taken off the mountain at around midnight. They were fortunate that the weather held long enough for the helicopter to help in the rescue. Had the weather closed in, a ground search would have been initiated, with resultant delays and the possibility of the students spending a night on the mountain. A full scale search could have been mounted only at first light the following morning.
Fortuin stresses that people should take more care before setting off up the mountain, even though it looks tantalisingly close to the UCT campus.
The following rules should be followed:
Be properly equipped. Dress appropriately and take sufficient water and food. Carry a torch.
Tell someone on the ground where you are going, the route you are taking and the time you leave and expect to return.
Take a cellphone and the number to call in an emergency. For mountain rescues call Metro on 948-9900 or 10177.
If you don't know the mountain, take a map.
---
This work is licensed under a Creative Commons Attribution-NoDerivatives 4.0 International License.
Please view the republishing articles page for more information.
---