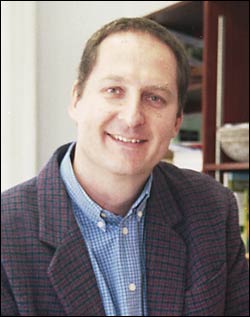 Weighty research: Dr Rüdiger Laugksch's newly published South African Science Education Research: An indexed bibliography 1930-2000 is a first in South Africa. (His four-year old daughter, Kristina, produced the butterfly design on the cover).
It weighs in at about 2kg, all 535 pages of it. But Dr Rüdiger Laugksch's newly published South African Science Education Research: An indexed bibliography 1930-2000 is bound to lighten the hearts of many researchers in this subject.
The 1 469 entries on science education research in the country, previously fragmented and largely undocumented, have been sewn together into a single reference that draws together science education research from 1930 to 2000. It is a first for South Africa and represents an invaluable tool for researchers and librarians, teachers, teacher educators and curriculum developers.
Laugksch spent four years collecting the material and a further four months painstakingly sorting the information to produce the bibliography, indexed according to author and editor and according to subject. Although he scoured vast numbers of publications, the material was finally drawn from 20 books, 91 chapters in books, 462 journal articles, 433 published conference proceedings and 463 postgraduate degrees.
A senior lecturer in the School of Education, Laugksch chose to start with 1930 as this was the year the first higher degree was awarded in South Africa. The book wraps up in 2000, the latest date for accurate university graduation data.
It comes at a time when science education is trying to leapfrog various obstacles; low enrolments for science courses (more and more students are turning to business and management degrees, says Laugksch), and generally poor performances in maths and science.
In South Africa researchers can search for science education research online but not in one place, unlike the national education index found in Britain, Australia, Canada and the United States, for example.
"Science education research is very difficult to track here," Laugksch noted. "The information and details are diverse and all over the place. We lack a consolidated database with details of all the publications. The NRF, however, is trying to do this via the Nexus database."
He wrote to every university librarian to extract higher degrees in science education, relying on their goodwill - and good humour - to dig up and forward information on various theses (master's) and dissertations (PhDs) in their archives. Listed in the index are authors, institutions, titles, abstracts (where available) and dates of publication.
He was also able to see what research had already been done, allowing him to ask some telling questions: Does it match what we need? Are the perceived gaps unique in the world?
Entries in the book show there were some early enthusiasts in science education. In 1903, UCT's HW Pearson (after whom the botany building is named) published an article in the first volume of the South African Journal of Science on teaching botany. Five years later E Aitken published an article on teaching science in girls' schools in the South African Journal of Science.
The first higher degree in science education research was awarded to one MJ de Kok, who published a master's degree in 1930 on teaching chemistry in high schools in the Transvaal. The first PhD in the area was presented in 1939 to CW Wright from Potchefstroom. It examined teaching general science in Transvaal Schools.
Though there were some early pioneers in science education research, 60% of all higher degrees in the subject were awarded during the past decade.
(The Human Sciences Research Council published the book and the National Research Foundation funded it.)
---
This work is licensed under a Creative Commons Attribution-NoDerivatives 4.0 International License.
Please view the republishing articles page for more information.
---