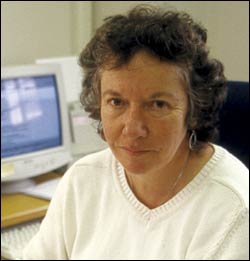 Judy Favish, UCT's new director of institutional planning.
The words "distinction in Latin" somehow catch the eye first in Judy Favish's curriculum vitae. It's easy to link the achievement to some of the personal attributes the new director of institutional planning lists in her CV: analytical thinker, hard worker, strong sense of duty...
Though her matric accomplishments are well behind her (she matriculated in 1968 and spent a year in the United States on an American Field Service Scholarship), UCT's new director of institutional planning has a CV studded with others. Many are linked to another strength she has noted: a passionate commitment to social justice and education for empowerment.
Educated in South Africa and in the United Kingdom with the aid of a British Council Scholarship, Favish has an MA in Adult and Continuing Education from the University of Warwick where her thesis examined the Aims, Organisation and Implementation of an Adult Basic Education Programme in South Africa. Her early academic achievements included a BA (psychology and legal theory and institutions) from Wits in 1972, an additional history major through Unisa, and a BA(Hons) in applied linguistics from Wits.
Benoni-born Favish began her career in Cape Town as a teacher at Roggebaai Teachers Training School in 1973 where she taught educational psychology. Two years later, she stepped forward to become convenor of the Western Province Literacy Project, established to provide worker education and literacy classes to members of the Western Province Workers Advice Bureau and community organisations.
In the face of the tumultuous student uprisings in 1976, Favish was served with a banning order under the Internal Security Act and confined to the magisterial district of the Cape for five years.
"Among other things I was prohibited from teaching, attending educational, political and social gatherings and from entering educational institutions or any premises where printing or publishing was done," she recalled.
If it was a setback to her educational aspirations, her later career did not reflect it. Shortly after her banning ended, she began a steady upward ascent; a stint as co-ordinator of the English Language Project at Learn and Teach, an adult literacy organisation, and project co-ordinator of the Labour and Community Education Project where she started getting involved in education policy work with the trade union movement. This resulted in a secondment to COSATU for two years to co-ordinate a project to develop recommendations for policies for a future education and training system in South Africa.
By 1993 Favish was working as a policy analyst at the Centre for Education Policy Development (CEPD), a body established by the education desk of the African National Congress (ANC) to develop education and training policies for an ANC-led government. Again, it was the adult basic education portfolio that absorbed her attentions. She set about co-ordinating the activities of a working group that had been charged with developing a framework for a new policy on adult basic education. While at CEPD and COSATU, she participated in several national education and training policy processes such as the National Training Strategy, the National Education Policy Invetigation, and the ANC's framework document. In 1996 she was appointed head of policy and strategic planning in the Reconstruction Development Policy and Planning Directorate in the Gauteng Department of Education (GDE). A promotion to acting director followed in 1997 and another to director of policy and planning for the GDE in 1999.
In 2000 Favish was able to realise a dream; she returned to Cape Town, this time as head of the department of institutional research and planning at the Cape Technikon (which later on included the co-ordination of transformation) a similar portfolio to the one she has subsequently taken on at UCT where her department includes institutional information, academic planning, quality assurance and institutional research.
There is much to do and learn, she reflects. "UCT is a complex and dynamic institution. Understanding the acronyms is work enough," she mused. Nonetheless, she is relishing the university environment. "It's an intellectually challenging environment."
Favish sees her role at UCT clearly; it's an opportunity to focus on ongoing transformation in higher education.
"My own outlook on planning is to support change in the institution. Many people see a tension between wanting to position UCT as a world-class institution on the one hand and the pressure to be responsive to local and regional needs on the other. In my view these can be complementary. The way we engage with a wide range of regional and local issues can help build expertise and enhance UCT's international reputation. However, as a publicly funded institution we need to examine how we can enhance the contributions that UCT makes to social and economic development priorities through our programmes, research, policy involvement and community service."
Keeping in touch with the academic fraternity is one area she plans to work at, even though she has taken a measure of the physical separation between upper campus and Bremner.
But if there is one area that really fires her, it is equity, particularly the extent to which the institutional climate impacts on the performance of black students.
"We must learn to integrate diversity issues into the curriculum, and modify our teaching and learning practices to draw on the strengths of a diverse population. And we need more black teaching staff to enrich the teaching and learning experiences at UCT."
On a more personal note, Favish is a single parent and off-duty she spends much of her time "ministering to the demands of twin teenagers", 16-year olds Tess and Keiran. She is also studying part-time for a master's degree in higher education policy, leadership and management studies at the University of the Western Cape, which allows very little leisure time for her other more non-academic passions; pottering in the garden, music, and walking the dogs on the famed Cape beaches.
---
This work is licensed under a Creative Commons Attribution-NoDerivatives 4.0 International License.
Please view the republishing articles page for more information.
---