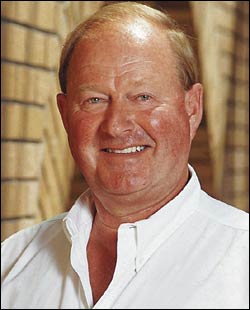 Associate Professor Julien Hofman.
In order to avoid liability, UCT should develop an interception and office communications policy that is reasonable in terms of the business needs of the institution.
This was the recommendation of the law faculty's Associate Professor Julien Hofman at the August 4 Open Planning Forum on workplace privacy.
Workplace privacy has become a contentious issue with new legislation that makes it a criminal offence to intercept or access another's communications unlawfully. Not complying with this legislation could lead to workplace disputes, civil or criminal liability, Hofman noted.
He went on to explain that the university community should be informed about the policy and that it should be consistently enforced if it is to be relied upon.
"In line with its policy, UCT should monitor communication traffic rather than look at content," he said. "But it should have a fair procedure in place for deciding when to investigate by examining content."
According to Hofman, most law reflects some shared understanding of right and wrong. When it comes to the right to privacy, however, there is extensive literature but no agreement on what the right means.
He said: "There are currently two opposing positions on workplace privacy. In the United States, favouring the interests of business is paramount and therefore an employee has no privacy when using a business's communications system.
"On the other hand, the International Labour Organisation (ILO) and the European Union (EU) Commission have asserted a right to workplace privacy. However, EU members are free to give effect to this right on their own terms, so the exact position varies from country to country."
Germany, for example, is a country with a high level of workplace privacy. E-mail monitoring without an individual's consent (consent must be real and not compelled) occurs only when there is a business need and a strong suspicion of misuse. In addition, breaching a prohibition of personal use of e-mail does not constitute grounds for dismissal.
The opposed positions in the US and the EU make it difficult for South African courts to use the test of what happens in "an open and democratic society based on human dignity, equality and freedom", as found in sections 36 and 39 of the South African Constitution. Hofman believes that although business looks mainly to the US and the United Kingdom for its idea of what is reasonable, South Africa's parliament and courts are more likely to follow the ILO and EU's position.
"It must be noted," continued Hofman, "that no legal system claims unqualified employee privacy relating to the affairs of the business.
"But in many cases an employee continues to have a core of personal privacy even in the workplace. How extensive this core of employee privacy is does not depend on the wishes of employer but on what is reasonably necessary for the business. Whether this core of privacy can be surrendered is a question we need to consider," he added.
---
This work is licensed under a Creative Commons Attribution-NoDerivatives 4.0 International License.
Please view the republishing articles page for more information.
---