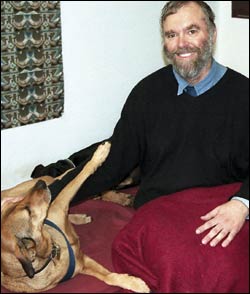 Writer's den: Assoc Prof Rodney Edgecombe in the company of temporary companions named after Lewis Carroll's book: Sylvie (in front) and the Bruno (hiding at the back).
The publication of his tenth book, Aspects of Form and Genre in the Poetry of Edwin Morgan (Cambridge Scholars Press) marks a milestone in Rodney Edgecombe's career.
The associate professor of English language and literature is a prolific writer. In addition to the book, his 215th academic article also went to press recently.
"I have to write all the time", he acknowledged. "I suppose you could say I'm a jack-of-all-trades, a generalist. I'm interested in all genres as this gives me an idea of how everything fits together."
Last year he took sabbatical leave to complete the work on Morgan, described on one website as Scotland's best poet. Indeed, the 83-year-old writer has produced work of astonishing scope and style; his vast repertoire including sonnets, science fiction poetry, translations, plays and essays.
"And he's an excellent critic to boot," Edgecombe added.
Morgan's latest book, Love and a Life, launched in May this year (shortly after Edgecombe's book went to press), is an anthology of 50 poems reflecting on his life, celebrating love and considering the future "unflinchingly". The octogenarian, it has been reported, writes nearly every day "with considerable excitement".
And if Edgecombe is impressed by Morgan's productivity and versatility, he is even more admiring of the unflagging quality of his work.
"He's still innovating. He's undoubtedly one of the most accomplished poets writing today."
Morgan's range, he adds, extends from concrete poems (where word and image are amalgamated) to confessional love lyrics and trenchant protest poetry.
Starryveldt, for example, is about the Sharpeville massacre and although Morgan has never visited South Africa, his interest in political justice ("He's quite left-wing," Edgecombe noted) drives him to dissect and reflect on worldwide political events through his writing.
Perhaps the Scots poet is best known for one of his unique literary inventions, the matrical poem in which he breeds an entire poetic text from the matrix of a single statement. For example "I am the resurrection and the life". He does this by isolating the relevant letters from the 28 columns set out above it, and deriving such lines as:
i am ra
i am thoth
i am rife in sion.
Morgan was born in Glasgow and studied at the city's university, his studies interrupted by a stint in the Royal Army Medical Corps from 1940. When he graduated from Glasgow University in 1946, it was with a first-class honours degree. He later joined the institution's academic staff as a lecturer in the English Department, declining a scholarship to Oxford. He took early retirement in 1980.
Various accolades showed he did not neglect his writing. Morgan was named Glasgow's first Poet Laureate in 1999 and was awarded the Queen's Gold Medal for Poetry the following year. In 2001 he received the distinguished Weidenfeld Prize for Translation for Racine's Phèdre.
Edgecombe was introduced to the poet's works while still an undergraduate student at Rhodes.
"I remembered his poetry later and went back to him," he recalled. His first article on Morgan appeared in 1981 in the Dalhousie Review.
Literature aside, Edgecombe is absorbed by another passion; music. He branched into musicology a few years ago, something that affords him more than a measure of pride. "I have next to no formal training in music," he confessed.
Instead, he taught himself to play the piano by ear and then learnt to read and write music without tuition. However, he was less successful when it came to DIY harmony, and his eagerness to master this topic drove him to seek out the tutelage of Ingrid Golom.
His writings on opera and music (we did say he is prolific) can be found in Nineteenth-Century Music, Opera Quarterly and Opera Review. Currently, he has three articles in press with the International Journal of Musicology.
"Lyrical poetry and music have lots in common," he reflected, explaining the marriage of interests.
"In poetry you look for pattern and motif. It is the same in music. Music is poetry almost - but not quite - emptied of reference."
---
This work is licensed under a Creative Commons Attribution-NoDerivatives 4.0 International License.
Please view the republishing articles page for more information.
---