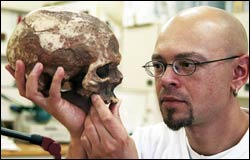 Back in time: Doctoral researcher Deano Stynder's grant increases the number of dated KhoiSan skeletons in South African collections. This will help researchers understand the roots of contemporary patterns of genetic and morphological variation of these indigenous southern African peoples.
It was perhaps a childhood predilection for the open veld, animals and old bones that planted a seed in the mind of young Deano Stynder.
Growing up on a smallholding on Small Princess Vlei in Heathfield, the PhD researcher, who traces part of his heritage to KhoiSan ancestry, recalls that his early days were filled with the wonders of discovering old bones, or, in anthropologically correct terms (as he later learnt), faunal remains.
Stynder has just chalked up a major coup: a US$25 000 (about R 185 000) research dissertation grant* from The Wenner-Gren Foundation for Anthropological Research (Inc), established by Swedish businessman Axel Wenner-Gren to advance innovative research into humanity's cultural and biological origins. Stynder's research, which involves the reconstruction of prehistoric KhoiSan population structure and genetic relationships, will benefit substantially from this grant.
Researchers will understand his satisfaction. He has waited over a year for the news. His doctoral research depends on having accurate geographical and temporal information on each skeleton in his study sample.
Geographical data on archaeological skeletons are recorded during excavations, however, very few of these skeletons have associated temporal information. This is understandable, says Stynder, as the sophisticated dating techniques that are required are sufficient to dent the most liberal research budget.
The grant from the Wenner-Gren Foundation has made it possible for Stynder to add substantially to the number of dated KhoiSan skeletons in South African collections.
The KhoiSan, with one of the oldest gene pools in the world, represent a valuable window on the origins of modern humans, reaching back almost 150 000 years.
Despite their ancient genetic lineage, the cultural and physical traits of contemporary KhoiSan populations are relatively recent artefacts of the Holocene (dubbed the "human era" and dating from after the last ice age about 12 000 years ago). Through his research, Stynder is hoping to provide a greater understanding of the history of the people and the region in which they lived and evolved.
If having a sufficiently dated sample has been difficult, obtaining morphological information has been easier. Working in the archaeology department's isotope laboratory at the top of Beattie Building, he uses a Microscribe 3-D digitiser to record 20 3-D landmarks on each individual cranium. Statistical analysis will be applied to the metrical information collected with this instrument, and the results will be used to illuminate the microevolutionary processes that caused the patterns of genetic and morphological variation that is evident in contemporary KhoiSan populations.
The majority of his samples have been, or are in the process of being dated by the accelerator mass spectrometor (AMS) method, a sophisticated technique that requires minute pieces of bone. It is not only expensive but time-consuming.
Stynder's work is significant because there has never been a systematic study of KhoiSan biological evolution through the Holocene using an adequate sample of chronologically ordered remains. Once his dated sample has been increased, he will be able to divide his study sample into populations based on geographic location and time period.
"As one of the few populations that practiced a hunter-gatherer lifestyle until quite recently, the Kalahari Desert KhoiSan populations contributed centrally to our understanding of this lifestyle as well as human biological adaptation to the extreme environmental conditions of the region," Stynder reflected.
It is all-absorbing work for this PhD researcher who has also spent time as a graduate student at Wits University and Duke University in the United States. (He has also studied under UCT's Professor Alan Morris of the department of human biology.)
But Stynder's study is also salient for an entirely different reason. In a uniquely South African context, he believes it will help rebuild KhoiSan identity.
"Ever since the early 20th century, the KhoiSan have been the subject of physical anthropological, archaeological, genetic and linguistic research but their descendants have had no stake in this research.
Following the fall of apartheid, he said, descendants of the KhoiSan, like many other South Africans, had become more aware of their heritage, resulting in an increased sensitivity surrounding the skeletal remains of their ancestors.
"Currently several institutions are setting up protocols around the management of human skeletal collections. These protocols would include the participation of indigenous people in the decision-making around research on skeletal remains. Inevitably, issues regarding repatriation and reburial of KhoiSan skeletal remains have come strongly to the fore. Despite this, however, there is also a strong desire among the KhoiSan themselves to construct their history and by so doing, re-establish KhoiSan identity after years of suppression."
As a physical anthropologist who is also associated with Iziko Museums, Stynder is acutely aware that historical human remains in many collections housed in museums and universities around the world have been obtained through "suspect circumstances". He is currently assisting Iziko Museums in the transformation of their physical anthropological collection.
It is not only in South Africa that the ethics and protocol around the remains of indigenous peoples is in question. The study of American Indian and Australian aborigine ancestry, for example, yields issues that are similarly complex and sensitive. In these cultures, studying the dead is taboo.
But Stynder takes a more pragmatic, scientific view of KhoiSan studies in this regard. "We have a great opportunity to learn about these unique people and to reconstruct their prehistory. In this way we can pay homage to how they lived and what they achieved."
*Two further grants of US$25 000 were made to the department of archaeology's Dr Simon Hall to support the metallurgy research being done by Dr Duncan Miller, and Carmel Schrire of Rutgers University in the USA, who is a research associate in the archaeology department at UCT.
---
This work is licensed under a Creative Commons Attribution-NoDerivatives 4.0 International License.
Please view the republishing articles page for more information.
---