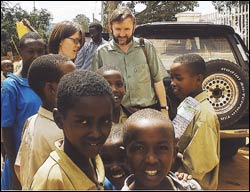 Sharing expertise: Oral historian Dr Sean Field (above, right) and audiovisual archivist Renate Meyer (left) visited Rwanda recently to help the country plan the audiovisual recordings and archiving of its gacaca hearings, nine years after the 100-day genocide.
The Centre for Popular Memory (CPM), which is attached to the Department of Historical Studies, aims to take people's memories beyond the classroom. The Centre also creates public spaces for people to voice their stories through books, radio and exhibitions. Monday Paper's Helen Théron spoke to the Centre's Director, Dr Sean Field, and audio-visual archivist Renate Meyer about their work in Rwanda to help that country plan and archive the audio-visual recordings of people's testimonies about the 1994 genocide.
Visitors to the rural church in Ntamara do not sit on the roughly-hewn wooden pews. They walk on them. That way they don't disturb the human remains on the floor, two and three deep in some places, some adult, some juvenile, some still clothed, their tattered garments faded with time.
The church, with its grisly remains, had been left untouched since "Hutu Power" extremists sealed it off and lobbed hand grenades inside. Those who tried to escape were shot or hacked with machetes. It is a grim memorial to the people who once lived, worshipped and finally sought refuge there. However, among this horror, Eric, a 9-year old boy, is a symbol of hope. His mother was pregnant with him, and survived the massacre by being concealed beneath a mass of bodies within the church. She now runs the memorial site at Ntamara.
It's an experience that Field and Meyer describe as "unforgettable". But it little prepared them for the post-genocide legacies they saw in Rwanda in May, 2003. They were there as the guests of the Aegis Trust, which runs a genocide prevention initiative and has set up a Holocaust Centre in Nottingham, England. Drawing from the experiences of the South African TRC hearings, among others, Rwanda has developed an innovative approach to achieving justice and memorialising the genocide.
Travelling in all-terrain vehicles, Field and Meyer attended several Rwandan gacaca courts (literally translated gacaca means "on the grass") in rural villages. These voluntary courts blend traditional and modern forms of legal procedure to achieve reconciliation and justice. Ultimately, there will be more than 9 000 gacaca courts in the various districts of Rwanda. These courts will try most perpetrators. However, the main planners of the genocide are being prosecuted through conventional courts within Rwanda and by the United Nations tribunal in Tanzania.
"This traditional gacaca court process is very developed," Meyer explained. "They have 19 judges and five office bearers in each court. Those perpetrators who come forward freely are encouraged by the possibility of a reduced sentence. The courts provide a forum for the accused and survivors to interact without lawyers, so it's an interesting process." The findings of the gacaca courts are ultimately verified at higher court levels.
In this respect they have learnt from the South African example. Field expanded: "In our view, one of the difficulties of the TRC hearings was the amnesty clauses, which gave complete amnesty to many perpetrators as an inducement to come forward and tell the truth. In Rwanda, the perpetrators may get a reduced sentence but they are still punished. This is important for victims and for reconciliation; they need to feel some sense of justice."
The Aegis Trust (in partnership with the Rwandan Justice Ministry) is filming these courts as part of an audio-visual archiving project to ensure that the lessons of the genocide are not forgotten. It is estimated that these courts will be in action for at least the next three years and the plan is to film as much as possible of the actual proceedings.
"Our main contribution was to help them plan how much they should film, what they should film and how to archive it, within their budget," Field reported. From an archival perspective, Meyer added: "This material will form a valuable part of the country's memory."
There are other telling comparisons to be drawn between South Africa's experiences on the road to democracy. Former UCT academic Professor Mahmood Mamdani's recent book When Victims Become Killers noted that where there were few perpetrators and many beneficiaries of apartheid crimes, the opposite occurred in Rwanda.
"The scale of the killing was incredible," Field said. Estimates indicate that around 800 000 people perished within 100 days. The killers were both army and police, and significantly, hundreds of thousands of ordinary citizens. These "intimate killings" were committed mainly with machetes.
It was also unlike the Holocaust, where hundreds or more were killed through gas chambers and other impersonal means, Field noted. The genocide killers of Rwanda were proportionately five times more effective than those of Nazi Germany.
Ironically, Rwanda's darkest hour also co-incided with South Africa's brightest. In April 1994, at the height of the massacres, South Africa's democracy was born, and a lengthy process towards peace and reconciliation began.
Back in South Africa, the Centre is training a range of student interns to conduct trauma and memory oral history projects, having gained valuable funding from the National Research Foundation (NRF) and the Swiss Agency for Co-operation and Development (SDC).
The Centre uses oral history as its core method and also collects photos and video material. The audio-visual archive combines archiving and dissemination functions such as audio-visual exhibitions, and placing audio and images on-line through their website at:
www.popularmemory.org
---
This work is licensed under a Creative Commons Attribution-NoDerivatives 4.0 International License.
Please view the republishing articles page for more information.
---