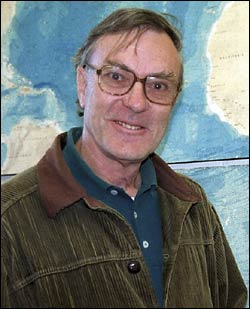 Making waves: Prof Geoff Brundrit, director of the Centre for Marine Studies, who is working to position UCT as a centre of excellence in the Southern Hemisphere in the ocean sciences field.
UCT must mobilise and take advantage of present global opportunities if it is to be recognised as the premier university in ocean sciences in the Southern Hemisphere.
This is according to Professor Geoff Brundrit of UCT's oceanography department, who made an impassioned plea for the establishment of an inter-disciplinary ocean sciences initiative, focusing on postgraduate studies, research, advisory work, outreach and professional training, at the July 28 Open Planning Forum.
With UCT already recognised as having considerable teaching and research strengths in the ocean sciences, Brundrit believes the university will be able to position itself as a centre of excellence in the field.
"Our academic staff are well respected and play an important leadership role in the promotion of international ocean research," he said. "By exploiting local advantages in this way and using them to strengthen our role as a global player, we would directly address two of the university's four strategic drives, namely, UCT as a research-lead institution that is globally effective while remaining locally relevant."
Brundrit believes the ocean sciences are at a threshold globally. The last decade has seen radical developments regarding large-scale ocean monitoring and modelling (for ocean weather and climate prediction purposes) and efforts to improve the management of the shelf seas and coastal zones in respect of fisheries, offshore industries, pollution and shipping.
"Until now these developments have been lead by first world countries and have been implemented in the Northern Hemisphere," explained Brundrit. "The Southern Hemisphere, particularly Cape Town, is now ready to participate as an equal partner in the global development of the ocean sciences.
"The burgeoning international ocean industry is investing in Cape Town and major players are locating their research and development arms in the region. Current thinking and planning, for example in the National Research Foundation, seeks to position Cape Town as the gateway to the southern oceans," he said.
In order for Brundrit and his team to achieve their ocean sciences initiative it will be necessary to:
enhance the quantitative and modelling skills of ocean science professionals
provide best practice training and experience in operational oceanography
encourage inter-disciplinary postgraduate training in the ocean sciences
become a hub of excellence in ocean science in Africa, and
attract and build full partnerships with international institutions.
All of these need to be incorporated into a new, expanded academic framework. The identification of a central physical location as well as resourcing possibilities (particularly from outside UCT) so as to ensure the long-term viability of the initiative, will be key to the successful establishment of a programme of this nature, said Brundrit.
---
This work is licensed under a Creative Commons Attribution-NoDerivatives 4.0 International License.
Please view the republishing articles page for more information.
---