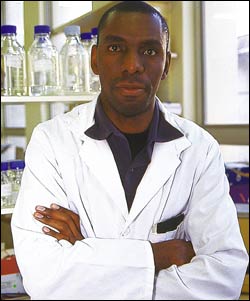 Born to research: Postdoctoral researcher Dr Siya Ntutela will collect his PhD on Friday for valuable work in ethnopharmacology, specifically in the field of compounds derived from traditional medicines used to combat TB.
Ethnopharmacology may sound like a bit of a mouthful but some important strides are being made in the area in terms of developing "home-grown" compounds from indigenous plants, commonly used by traditional healers in South Africa to medicate against diseases like malaria and tuberculosis.
One of the postgraduate students who will be capped at Friday's ceremonies is Dr Siyabulela (Siya) Ntutela, one of a modest but widening group of black PhD graduates making their marks in research. He intends to make a career in the field (even though the IIDMM building operations outside his laboratory are probably enough to put off the most ardent researcher).
Born in Tsomo in the Eastern Cape, Ntutela joined UCT in 1996 after completing his BSc at the University of the Western Cape. One year of his PhD studies was spent at Sheffield University on a Sainsbury Scholarship (nice place, but he does not miss the cold, he says).
These days he can be found in the Medical Microbiology laboratories where he conducts his "completely different" postdoctoral research on the molecular epidemiology of TB under department head, Professor Lafras Steyn and Professor Gilla Kaplan, Public Health Research Institute, New York.
For his PhD, he worked in collaboration with the UCT-based South African Traditional Medicines Unit, which has made some rapid scientific progress in their research into the use of traditional herbal medicines for treating malaria and TB, using compounds from indigenous South African plants. The Unit is part of a consortium (which includes the MRC, University of Pretoria, CSIR and the National Botanical Institute) that received a three-year grant from the Department of Arts, Culture, Science and Technology (DACST) to develop traditional medicines into scientifically tested anti-malarial drugs for human consumption.
"TB is the leading cause of death due to a single organism, with a mortality rate of more than 3 million people annually," he told Monday Paper. "The emergence of multi-drug resistance and HIV/AIDS are the major cause of this problem. We urgently need to find new therapeutic agents with a different mode of action and resistance to Mycobacterium tuberculosis."
Donning his travelling gear, Ntutela visited traditional healers in seven of the country's provinces, gathering the plants they used for treating TB. Back in his laboratory at the medical school overlooking Devil's Peak, Ntutela tested extracts from these plants, isolating active compounds that were further tested against five clinical strains of Mycobacterium tuberculosis. Two sesquiterpenes (biochemical ingredients in plant oil) were isolated and found to hold some promise in this search for new drugs. With similar progress being made, he estimates it will not be more than 10 years before something new in the drug line emerges from the South African research into plant compounds.
But however much research absorbs his attentions, there are other responsibilities that prove more than a little distracting. As one who enjoys full participation in university life (he was instrumental in the "rebirth" of the UCT's Postgraduate Students' Association and was both the Head Student and Subwarden of Groote Schuur Residence Complex when he first joined UCT), Ntutela is Warden of Kilindini and College House residences, where the students' antics sometimes provide interesting diversions. And then there is his family, his wife, Thembi, and a nine month-old daughter Malaika (Swahili for "my angel"), both of whom will be lending their own brand of "home-grown" support at the graduation ceremony.
---
This work is licensed under a Creative Commons Attribution-NoDerivatives 4.0 International License.
Please view the republishing articles page for more information.
---