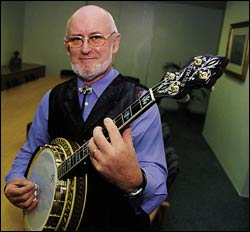 Boadroom balladeer: Prof Doug Pitt with his newly-acquired 1929 Weymann banjo.
Professor Doug Pitt, Dean of the Faculty of Commerce, recently upped the value of his already impressive jazz banjo collection when he acquired a 1929 Weymann tenor banjo - the instrument, by his own admission, now the showpiece of his cache.
Jazz aficionado and once - during his student days - a performer of semi-professional pedigree, Pitt has more than just a dilettante's interest in banjos. So, while other matters - such as managing the University's most prosperous faculty - have tapered his playing days (he's still invited for the occasional jam), he has by no means lost touch with his musical interests.
As such, he has been in regular contact with a number of traders in the United Kingdom, urging them to be on the lookout for anything "special" that may cross their shop counters. Recently, the APB paid off when he was notified that the Weymann had become available.
And a Weymann instrument, he observed, was too good a piece to pass over. The now-defunct Philadelphia company, he explained, was renowned for the quality banjos it produced during the jazz years of the 1920s and 1930s.
In fact, such was the esteem in which Weymann banjos were held that they were the instruments of choice of professionals in many leading bands of the 1920s. Along with the Gibson and Vega makes, frequently copied by post-World War 2 Korean and Japanese manufacturers, Weymann instruments were considered "simply the best".
Not too long ago, Pitt actually came across a Korean replica of a Gibson banjo, which he was able to pick up at a reasonable price, in the popular Oom Samie se Winkel in Stellenbosch.
His Weymann acquisition is the real thing, however. It also happens to be a number six from Weymann's range of seven, which, he explained, means the instrument features among the best of the company's crop.
"The number sixes and sevens are each unique because they're customised, so you won't find another one exactly like it," he said. "In fact, I've never seen a number seven in the flesh, and it would probably cost and arm and a leg."
And while his own purchase cost a pretty penny as well (he did, after all, have to cough up in pounds), Pitt puts his purchase into financial context. "I don't play golf, so this gives me as much pleasure as a premier set of clubs would to a golf professional."
And, unlike golf clubs, he continued, a Weymann increases in value, and thus makes a sound investment. And it plays like a dream (unlike most golf clubs).
"I don't possess another instrument of this quality," he beamed while strumming a few notes from Scott Joplin's The Entertainer, the memorable theme song from the classic Paul Newman/Robert Redford movie, The Sting. "It's by far the best banjo in my stable. All I need now is a group of similar Dixieland enthusiasts in UCT to share this instrument's full potential'".
---
This work is licensed under a Creative Commons Attribution-NoDerivatives 4.0 International License.
Please view the republishing articles page for more information.
---