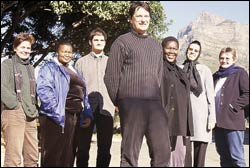 Life support: The team involved in successful antiretroviral treatment pilot project in Khayelitsha are Dr David Coetzee (front) and (from left, back), Katherine Hilderbrand, Nandi Magwaca, Dr Andrew Boulle, Zodwa Mzongwana, Galiema Parker and Judy Austin.
A pilot project on antiretroviral (ARV) therapy for patients with HIV/AIDS in impoverished Khayelitsha is set to become a model of hope for poor communities around the world where 42 million people are reportedly living with HIV/AIDS.
"We can tell the world that anti-retroviral therapy in resource-poor communities can work," Dr David Coetzee affirmed. The UCT Senior Specialist is one of a team from the Infectious Diseases Epidemiology Research Unit of the School of Public Health and Family Medicine who have partnered Médicines Sans Frontières-South Africa and the Provincial Department of Health in an ARV therapy rollout at three clinics in the Cape Flats township.
In Washington today, Coetzee will present a detailed report of their findings to a session of international experts called together by the World Bank. The organisation has clearly indicated that they are looking to the project for direction in their planned HIV/AIDS interventions around the globe.
There is some irony to this as the debate in South Africa around the expansion of ARV therapy has caused substantial controversy. Nonetheless, important results are coming through from the Khayelitsha project indicating that successful ARV therapy is indeed possible in resource-constrained environments. The Khayelitsha project has seen AIDS transformed from a death sentence to a chronic condition for many patients and Coetzee and the team believe there are perhaps lessons from this project for other developing countries.
Khayelitsha offers all the common challenges faced by threatened communities. Of its 500 000 inhabitants 50 000 are believed to be HIV positive. More than half the community is unemployed and more than 70% live in informal housing. HIV seroprevalence rates at antenatal clinic are above 24% and have rise rapidly over the past 10 years, according to the UCT/MSF-SA report.
The Khayelitsha project has grown considerably since its inception in 1999, when MSF first began work in the townships on one of the country's few government-supported prevention mother-to-child transmission projects. In 2000, in collaboration with the Western Cape Provincial Administration, MSF set up three dedicated HIV/AIDS services within the community's primary health care centres. In May 2001 the HIV clinic began to offer highly-active antiretroviral therapy to people at an advanced stage of HIV infection. Many are now thriving.
The success reflected here provides a ray of hope for many South African communities beset by similar problems. "We can also expect this project to play a similar role nationally in providing answers to a range of questions about how the South African public sector can provide the critical component of antiretroviral therapy as part of its HIV/AIDS strategy," Coetzee noted.
The World Bank plans to implement ARV treatment and access programmes through their Multi-Country HIV/AIDS Prevention and Control Programmes (MAP) in resource-poor settings, with particular emphasis on Africa and the Caribbean.
The Khayelitsha project has been used as a case study by the World Health Organisation (WHO) and published as a Best Practice document in May this year. They were suitably impressed and an invitation to Coetzee followed. "The World Bank wants our advice on how to best develop and implement ARV treatment programmes, focusing on resistance and adherence," he reported. "The purpose of the meeting is to present the lessons learnt from Khayelitsha, to advise the World Bank on how to assist countries in rolling out treatment programmes," Coetzee added. "They would like to apply the lessons learnt from existing programmes, specifically what has been done here in order to minimise the learning curve."
The invitation reflects international recognition of the importance of the Khayelitsha project in being able to answer questions about antiretroviral treatment in resource-poor settings, in this instance, about patient adherence to treatment and the prevention of drug resistance. South Africa, with more than 5.2 million infected people, the largest number for any one country in the world, according to WHO figures, was perhaps the best place to look for answers.
The programme's victories are borne out by one patient's comment: "People must know that a poor person like me living in a shack can take these drugs properly. They are my chance to live."
---
This work is licensed under a Creative Commons Attribution-NoDerivatives 4.0 International License.
Please view the republishing articles page for more information.
---