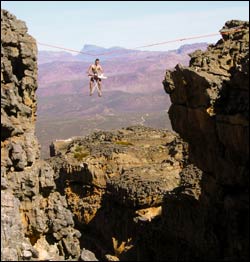 More pictures can be viewed on the competition's website at www.extreme ironing.com or on Forbes's site at http://dsp7.ee.uct.ac.za/~gordon/pictures.htm (the latter features pics of another UCT extreme ironist, Matthieu de Villiers, who will also feature in Extreme Ironing).
Gordon Forbes and Troye Wallett took full advantage of their love of mountain climbing and adventures odd to win the 2003 international Rowenta Extreme Ironing Trophy, bagging the award for a picture by Forbes of Wallett smoothing the wrinkles out of a shirt while hoisted across a 30-metre wide gorge at Wolfberg Cracks in the Cedarberg Mountains.
For their crease-defying escapades, Forbes (a doctoral student in engineering) and Wallett (a medical graduate) each won a Rowenta iron plus a copy of Extreme Ironing, a book to be published in November this year on the competition's five-year run. Their winning picture will appear in the volume.
There was an element of serendipity in setting up the shot, reported second-timer Forbes, who debuted in the competition without luck (and ironing board) in 2001. The two - and a clique of friends - come across some Stellenbosch climbers who by chance had just completed a tyrolean traverse (pulling themselves along a rope suspended across two rocks) over the gorge.
Some bartering, a few incredulous chuckles, and soon Wallett, ironing board and iron were harnessed up and dangling across the gorge.
"Sure, it's completely arbitrary and pointless, but it gives you a mission - something to do for the weekend," philosophised Forbes.
---
This work is licensed under a Creative Commons Attribution-NoDerivatives 4.0 International License.
Please view the republishing articles page for more information.
---