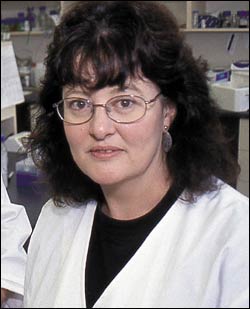 The Institute of Infectious Disease and Molecular Medicine's (IIDMM) Professor Anna-Lise Williamson.
Recent newspaper reports have suggested that the successful completion of a number of candidate HIV vaccines being developed by UCT researchers is imminent.
Monday Paper
spoke briefly to the Institute of Infectious Disease and Molecular Medicine's (IIDMM) Professor Anna-Lise Williamson, who heads the UCT team working on candidate vaccines as part of the South African AIDS Vaccine Initiative (SAAVI), to sort out the hype from the facts.
MP: Is the South African vaccine the one that the world has been waiting for?
AW:
There are many candidate HIV vaccines in development worldwide. The UCT HIV vaccine candidates are developed in partnership with international groups including the National Institutes of Health (NIH) in the United States and the South African AIDS Vaccine Initiative (SAAVI). Our vaccines are unique because they contain multiple HIV-1 genes based on the circulating HIV-1 subtype C in South Africa.
MP: Will any of your three main candidate vaccines - the two DNA vaccines and a Modified Vaccinia Ankara (MVA) vaccine - be entering human trials soon?
AW:
Phase One human trials are being planned for next year. Two DNA vaccines, constructed at UCT, have been manufactured in the UK. The one called pTHr.grrtnC contains HIV-1 subtype C genes gag, reverse transcriptase, tat and nef. The second DNA vaccine, pTHr.gp150CT, contains a truncated env gene. However, before the human Phase One trials can take place the toxicity studies need to be done. These are studies in animals to show that the vaccine is safe. Then the candidate vaccines need to be passed by the Medicines Control Council (MCC) in South Africa before Phase One trials commence. A factory has been contracted to manufacture the candidate MVA vaccine containing the same genes as in the DNA candidate vaccines. It is hoped that this product will be ready in order to plan the Phase One trials next year.
MP: What are these Phase One Trials?
AW:
Phase one trials are safety trials - it is only in Phase Three trials that it will be determined if the candidate vaccines protect people from HIV infection or HIV associated disease. Very few Phase One vaccines move through to Phase Three trials, and there has been only one HIV vaccine Phase Three trial to date.
MP: How long does it take for a candidate vaccine that makes it through the Phase One trials to get to Phase Three?


AW:
It may take 10 years from the start of Phase One trials to the end of Phase Three trials and before it is known if a vaccine is effective.
MP: Which of the three UCT vaccines you mentioned is the most promising?
AW: These three candidate vaccines are all complementary and are not designed to be used as individual vaccines. The two DNA vaccines will be mixed and are expected to prime the immune response that can then be boosted with MVA vaccine.
---
This work is licensed under a Creative Commons Attribution-NoDerivatives 4.0 International License.
Please view the republishing articles page for more information.
---