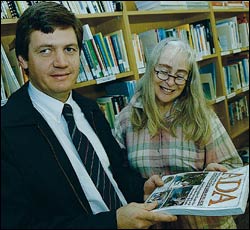 Kick-starting disability studies: From left, Mike Watermeyer and Merle Lifson-Dettori at the Disability Unit's ever-expanding Resource Centre.
In a bid to stimulate research into and writing on disability, a subject that receives scant scholarly attention in South Africa, the UCT Disability Unit has over the past two years been fashioning its Resource Centre into a wellspring of academic and popular materials on the subject.
Established by the Disability Unit in 2001, the Centre, under the guiding hand of acting co-ordinator, Merle Lifson-Dettori, presently boasts a growing collection of academic information, books, magazines, journals and newspaper clippings. There is also an expanding selection of videos and DVDs (both popular fiction and documentary), on issues relating to disability.
Focusing on education and awareness, the library covers physical, learning and sensory disability, chronic illness, and general disability-related issues.
Topics range widely from physical access to disability rights, as well as works on employment, accessibility, health and sexuality, and AIDS. One of the Centre's most prized possessions is the multi-volume Americans with Disabilities Act, or ADA, considered an invaluable reference work on legislation related to disability.
Possibly the only such university-based service in the country (or on the continent, for that matter), the Resource Centre aims simply to kick-start currently "sporadic" South African research in the field of disability studies, said Mike Watermeyer, Director of the Disability Unit. It hopes to do so by assembling as much material as it can under one roof, making researchers' jobs that much easier.
"We find that while there's currently some academic activity at UCT with the launch of the MPhil in Disability Studies [an inter-disciplinary partnership between the Faculty of Health Sciences and the Graduate School of Humanities in 2002], in general the amount of research being done in South Africa is insufficient," Watermeyer noted. "In contrast, the amount of work being done into disability in the United States, for example, is absolutely phenomenal."
Consequently, most of the publications and studies used in South Africa are of American origin, which means that specific local concerns are often overlooked. "What we badly need to do here in South Africa is to develop a culture of research and writing about disability," added Watermeyer.
"And that really underpins the reason for the Resource Centre - that really is the nub of it."
With money in hand from generous sponsors such as Foschini, the Resource Centre is willing and able to look at reading lists and acquire material that may be required (for the Centre) by individuals.
According to Watermeyer, the field provides rich matter for many other disciplines. "The interesting thing about disability studies is that it inevitably intersects with many other disciplines, be it engineering, architecture, law, whatever," he noted.
"In many ways, it's a pivotal discipline."
The Resource Centre is open every weekday from 09h00 to 12h00 for all students and staff, who can borrow material, as well as members of the public. It is located in Room 5.88, Robert Leslie Social Science Building. Queries can be directed to Lifson-Dettori at 650-5088.
A list of the most recently acquired material can be viewed on the Disability Unit's website at
http://web.uct.ac.za/depts/disability/
.
---
This work is licensed under a Creative Commons Attribution-NoDerivatives 4.0 International License.
Please view the republishing articles page for more information.
---