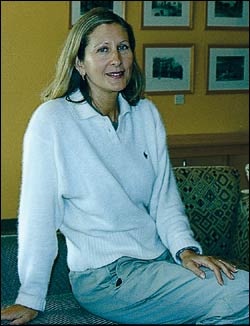 Re-examining time limits: Professor Geraldine van Bueren of the Public Law Department.
WP Schreiner Professor Geraldine van Bueren, of UCT's Public Law Department, says the time has come to re-examine the denial of access to courts based on the statute of limitations and the imposition of time limits.
Van Bueren questions why time and history should act as barriers to suing a perpetrator of a crime when courts should be seen as parachutes, opening to assist people. "Time limits prescribe the amount of time which victims have to institute an action in civil cases. The problem is many potential litigants lack the financial and emotional resources within a short period of time and, being unaware of their rights, take time to obtain the necessary legal advice," said Van Bueren.
In many countries the time limits imposed are very short and while judges have the discretion to change the limits, they seldom do as they "guard their discretion jealously". "Part of the resistance to extending time periods is because some lawyers and judges find it difficult to understand that legal actions may not be a victim's first priority," explained Van Bueren.
"When children have been illegally separated from their families for decades, their first priority is to try to find any living relatives and then slowly rebuild shattered relationships. It is only then that court actions, allowing for a history to be told and justice to be claimed, are contemplated," she added.
Her call for the scrapping of time limits is in response to a case where a group of adults instituting an action against a British orphanage were told they were "out of time". As children, these adults were the victims of a state policy allowing the "trafficking" of British orphans. Hundreds of children in children's homes were told they were orphaned even though, in many cases, their mothers were alive. Without parental consent, they were illegally scattered throughout the Commonwealth - sent to Australia, Canada, New Zealand, South Africa and the former Rhodesia. Many of the children were sent to farms and exploited as cheap labour.
Although the scheme was discontinued in Canada in 1939, it continued in Australia until the late 1960s.
Now, over 50 years later, these adults are instituting an action formulated as a continuing breach of fiduciary duty owed by the children's homes in, among others, failing to screen employers and failing to take reasonable steps to protect the children.
Van Bueren believes this case is of significance to the South African legal system as the "north can learn from the south".
She said: "South Africa is leading the way in challenging long-held legal traditions through its new constitution and the wide range of remedies now available. The rest of the world can learn that time limits, which are held to be inviolable, may not necessarily be so."
Despite a recent court ruling that a woman could not sue for sexual abuse suffered as a child, Van Bueren hopes the higher courts will not rule out sexual abuse cases purely because of the length of time.
"The competing rights of access to court, effective remedy, dignity and equality of the individual should determine whether or not a case is tried and not a time period," she affirmed.
For Van Bueren the importance of basing a decision on the human rights of an individual also acts as a symbol that the state will not tolerate a crime no matter when it occurred, especially in cases relating to the sexual abuse of children.
"Allowing victims to sue decades after they suffered harm may be useful in that it acts as a deterrent to perpetrators as well as offering the victim an opportunity to put the past to rest," she concluded.
---
This work is licensed under a Creative Commons Attribution-NoDerivatives 4.0 International License.
Please view the republishing articles page for more information.
---