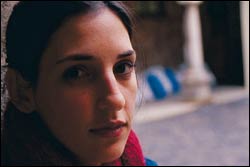 Foot on the accelerator: Nadia Davids' play about Muslim women, At her feet, has proven to be a theatrical hit in Cape Town.
It started out as a modest practical component to a scholarly PhD in drama, but playwright and director Nadia Davids suddenly found herself a bit of a local celebrity when her one-person play on Muslim identity in South Africa, At her feet, was elevated to sleeper status, segueing seamlessly from student production into mainstream hit.
Inspired in part by events after the September 11 attacks on the United States, Davids last year wrote the play - her fourth since her "debut" as a grade 11-er at St Cyprians - as a creative complement to her doctoral work on the representation of race and identity in South African theatre (co-supervised by Associate Professor Lesley Marx and Yvonne Banning). "It was sort of a reaction to both an internal impulse and an external impulse," she recalled.
"I was at a stage of my life where I was thinking and dealing and processing what it meant to grow up as a Muslim in South Africa, which has its own baggage of race and gender."
But there was further inspiration, specifically the ubiquitous media images of Afghan women being "emancipated" from Taliban rule by American soldiers. Satisfaction - at the actual emancipation - was, however, mingled with political concern for Davids.
"I had to question these romanticised images of invisible, mysterious women swathed in layers of veils being rescued by American troops," she pointed out.
As retort to these one-dimensional portrayals, Davids created in At her feet a cast of five characters (played by schooldays debating rival, UCT graduate Quanita Adams), who through poetry, song, dance, monologue and hip-hop improvisation deliver contrasting commentary on issues that affect Muslim women both locally and internationally, be it honour killings, hair politics, or the wearing of the hijab, the traditional Muslim scarf. And in doing so, they also illustrate how different Muslim women can be.
"I wanted to show how varied and how fractured and how hybrid Muslim women actually are," noted Davids.
It wasn't all just diatribe either, Davids insisted. "I had a very specific political agenda, but I also tried to show that these are very personal, very real characters and stories," she added.
And as soon as At her feet was staged, it became clear that it had struck an emotive chord. A five-night run at the Arena Theatre on Hiddingh Campus was extended by one night, and then the play was moved to the Warehouse as part of the Cape Town Festival.
The production will also enjoy a three-week stint at the Baxter Theatre from June 9, before it makes its way to the Grahamstown Festival, where Davids "debuted" in 1995 with her first show, Khumbula.
The media were also enthralled. The Cape Times voted it number two on its list of top ten plays for 2002, and called it a "decidedly personal, very literate one-hander", while the Cape Argus commented that Davids and Adams had, despite the play's heady subject matter, hit "the big time with a production laden with challenges and renewed perspectives".
The Annual Review of Islam in South Africa also got into the paean-issuing act. "It is a fresh public construction of Muslim women, and does not shy away from painful issues," said the journal.
Praise and support were also forthcoming closer to home. Family members and friends were very encouraging, noted Davids, as were many of the Muslim women who came up to her after performances.
And there was of course the I-know-these-people factor, which reached way beyond the Muslim community. One American patron swore to Davids that her Auntie Kariema character was a dead ringer for his hash brown- and pork-grilling aunt in Mississippi. "I think that's why the play's been so successful, because it's managed to somehow transcend the fact that it's about a specific group of people, and it turns out quite universal."
The Baxter and Grahamstown stagings are not the only prospects Davids has to look forward to or fret about. In 2004, she'll be spending a semester at New York University (NYU) on a Mellon scholarship, and she's also been asked to script a play on Cissy Gool, a woman who, she says, has been a part of her "headspace" ever since she did a project on the activist at school.
For now, however, there's a hit play to update (her characters will, once it hits the Baxter planks, have something to say on the US incursion into Iraq, for instance) and nurture - it has, after all, served her well. "This has been a beautiful chance for me to deal in a creative way with a lot of issues," Davids observed.
"It has been quite cathartic at that level."
---
This work is licensed under a Creative Commons Attribution-NoDerivatives 4.0 International License.
Please view the republishing articles page for more information.
---