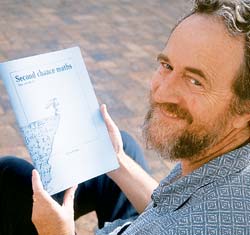 Associate Professor Chris Breen
Recurrent nightmares of writing maths exams are common among the general populace, says the education department's Associate Professor Chris Breen.
Concerned that the subject (which he considers should be fun, even intriguing in a nice kind of way) had induced post-school phobias (sweaty palms, palpitations, et al) about algebra, trig and geometry in legions of people, he developed a course dubbed simply
Second Chance Maths
. But even better, Breen has launched a new book by the same name, designed to erase some of the fears and mysteries around numbers, their relationships and configurations.
Breen is a chemical engineer by training (he is a UCT alumnus) who later taught mathematics at secondary school level, before entering the academic field at UCT 22 years ago. About five years ago he decided to run a course called
Second Chance Maths
at UCT's Summer School, based on his experiences of working with students taking the Postgraduate Certification in Education (Primary) course.
This work with graduates planning on becoming teachers had shown him the extent to which failure at maths could impact on the whole self-esteem of an otherwise extremely successful human being. What is this subject that causes so much stress, and how did we come to allow it to take such a hold on us? The Summer School course was aimed at adults who felt they could have done better at maths and wanted another crack at it.
"To my surprise this course was oversubscribed within the first fortnight of being advertised, and the class ended up consisting of people from a broad spectrum of society". Since then, he has offered the course on a number of other Summer and Winter schools, as well as for those participating in the Associate in Management (AIM) course at the Graduate School of Business. "We even had a course on
Second Chance Geometry
last year for graduates from the
Second Chance Maths
courses".
It was the 1999 group, in particular, whose "clamouring" got Breen to put pen to paper and start writing the book. Like the course he runs, the book provides an opportunity for the reader to re-explore their relationship with maths. It's not a typical maths publication (sigh of relief). It's a "doing" book, one that takes the reader on a journey and gets them reflecting on the process of mathematics, and thinking about their feelings around the subject.
"It's about helping readers deal with blockages that hinder them from showing their innate ability to understand and do mathematics," he added.
The book also debunks some popular myths: particularly that you have to be quick to be good at maths, and that there is only one way to the right answer. It changes the perspective of mathematics being a competitive relationship ("that wrong answers lead to shame instead of to conversation") to one that recognises the satisfaction of learning instead. It also encourages readers to use the power of imagery.
Second Chance Maths
is easy to read and deals with a range of chapters (divided into "encounters" and "reflections"), from
So where did it all go wrong
, to
Numbers systems and patterns
, and
Seeing the big picture
. Scattered through the text are limericks and verses and illustrations by the book's designer, Lyn de la Motte, as well as Breen's wife, Ann-Marie.
Interestingly, as this writer flicked through the book and came to a chapter headed
Looking for number patterns
, I suddenly saw one; the nine times table in which the answers run from 0 to 9 on the left and 9 to 0 on the right. It was exciting, intriguing, a revelation!
Second Chance Maths is available at selected bookstores, or from Breen himself, at R90. (The website is at
www.secondchancemaths.com
.)
---
This work is licensed under a Creative Commons Attribution-NoDerivatives 4.0 International License.
Please view the republishing articles page for more information.
---