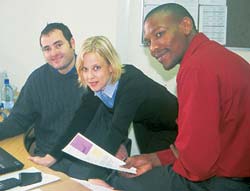 Protecting research knowledge: The UCT Innovation team includes contract managers (from left) Roger Wallace, Sian Stevenson and Sipho Mtsweni.
Patenting an idea can have wide commercial and social spin-offs for a university like UCT, where research is an integral part of the institution's vision and where exploitable designs or products frequently come to the fore. But according to Dr Tony Heher, Director of UCT Innovation in the Department of Research and Innovation, an important aspect of patenting is that the subject should not be published or revealed to the public in any form before a patent is filed.
"While a patent can be filed quickly, a more important restriction that is often overlooked is correct timing," he added. Filing a patent too early can result in a weak patent that may not have commercial value. But delaying the patent filing may mean delaying the publication of one's research, a hard choice, Heher admitted.
"This is one of the reasons why the possible commercialisation or 'socialisation' strategy needs to be thought out at an early stage to be able to decide whether a publication delay is warranted." UCT Innovation is often faced with the plea: "We're giving a conference paper next week, please file a patent!"
"Our answer will have to be: we can, but we will not until the whole process has been planned in more detail. So candidates should talk to us sooner rather than later," Heher added.
Patenting is just one area of UCT Innovation's enterprise. The department's key focus is implementing the Vice-Chancellor's vision to "profit from research" through a variety of appropriate commercialisation and enterprise activities.
"But 'profit from research' doesn't only mean exploitations for commercial gain," Heher noted, "It includes innovative research in all disciplines and across all faculties, research that can help transform society."
Where does a budding researcher-cum-inventor start? The innovation process begins with what is called "invention disclosure". This involves no more than asking the question: "Who could benefit from this research and how can this benefit be realised?" The answer, said Heher, is seldom clear-cut. "But simply asking the question can trigger a train of thought that can lead to realising social as well as commercial benefit."
However, the question should be asked as early as possible. "Realising these potential benefits requires a considered and effective integration of innovation and research activities." Do commercialisation and innovation activities impact on other university functions, particularly scholarly output?
"Evidence from around the world suggests that the converse is true and that those institutions that engage in effective knowledge transfer have higher research outputs of higher quality than those that do not," Heher commented.
Conversely, those institutions producing high-quality scholarly research are invariably those that gain the most benefits from commercialisation activities.
"Not only are the two not in conflict but they are intimately related and mutually supportive." Heher's view is that ethical issues and potential conflicts of interest should be managed.
"But without the potential for 'conflict' there is often no interest, so it becomes a question of management, not avoidance."
Following the disclosure of an invention or determining that an idea has possible benefit, a process starts within UCT Innovation to determine how that benefit can be realised. This requires a collaborative approach between the researcher, UCT Innovation and other parties, as required, to explore a range of alternative or exploitation strategies.
"It may even be as simple as filing a patent and finding a buyer," Heher concluded.
While patenting is an effective and widely used approach to protect research knowledge and facilitate its commercialisation, it is by no means the only or the best strategy in all circumstances.
"Sometimes placing the knowledge in the public domain may realise the best social benefits, while in other cases patenting may be the only way to realise the social benefits, through either commercial or non-commercial exploitation. Each case must be considered on its merits."
---
This work is licensed under a Creative Commons Attribution-NoDerivatives 4.0 International License.
Please view the republishing articles page for more information.
---